It's April 3. Ramadan continues, Passover begins Wednesday, Easter is Sunday. Our best to everyone celebrating significant holidays this week.
Today's expanded Spotlight is 1,021 words — about 4 minutes to read.
Spotlight On … Retail Food Tech

Retail food technology continues to change in 2023. Grocery stores are automating checkouts and using AI to personalize shopping. More local and organic food is available through online delivery services. Robotic food preparation and contactless payments are transforming restaurants.
Retail Food Tech … at Supermarkets
Enhanced inventory and checkout options include price scanners that recognize fresh produce automatically, weigh it, and price it. Stocks on store shelves will be monitored using Google AI image recognition. That improves availability, cycle time, and increases profitability.
… in Restaurants
Amazon touchless technology will allow Panera Bread to offer optional custom experiences, including ordering and paying without a cashier. Customers are greeted by name and menu items are suggested based on their previous orders.
McDonald's is implementing artificial intelligence in some drive-thrus. The software is more reliable at upselling and can handle higher volumes more efficiently. The company also boosts profitability by reducing its workforce. Startup costs and customer reaction are understandably concerns for franchisees.
… ordering delivery
A massive purge of virtual brands is underway on Uber Eats to winnow down restaurant options. These brands are an offshoot of the ghost kitchen concept where the same food is sold by the same kitchen under different brand names. There are now over 40,000 virtual storefronts on Uber Eats, and 5,000 will be removed soon. The company pointed out abuses that included a NY deli selling the same food under 14 brand names and a Colorado sports bar doing the same using 12 brands.
… anywhere biometric data is collected
A New York consumer has filed a class-action lawsuit against Amazon, alleging the company collected biometric data at its convenience stores for a year before complying with disclosure laws. In response to the lawsuit, Amazon says it does not use facial recognition inside its Go stores and that the storage of palm print data provided by customers is disclosed when they opt-in.
Amazon Go has 29 retail stores in the United States, 10 of them in New York.
3 More Stories to Know
1) Shopping app Pinduoduo is a substantial cybersecurity risk and should not be used on your Android phones, according to experts. Google Play has already banned the app because the owner can take over parts of a user's phone. The software can also reportedly protect itself from being uninstalled. Pinduoduo is owned by the same company that owns Chinese shopping app Temu, which is one of the most downloaded shopping apps in the U.S.
2)  BuzzFeed surprised industry observers when it announced that it would use AI software to author quizzes on its site. The company has taken another step and has published dozens of AI-written travel guides it attributes to Buzzy the Robot.3) ChatGPT 4.0 improved its grade on an economics exam to an A, according to George Mason University professor Bryan Caplan. ChatGPT 3.5 only earned a D when Caplan first administered the exam three months ago.
Waiting in the Wings
Protecting yourself from location data
What you can really do with those chatbots
How algorithms are automatically denying medical claims
Put your email address in the form at this link and you'll get a free copy of Spotlight each Monday morning to start your week in the know.
If you're already a free subscriber, would you please forward this to a friend who could use a little Spotlight in their Monday mornings? It would really help us out, and you know they'll love it too.
Trends & Spends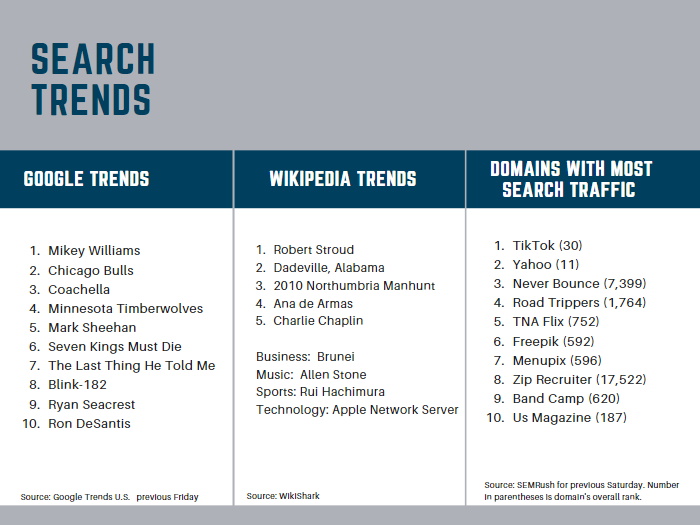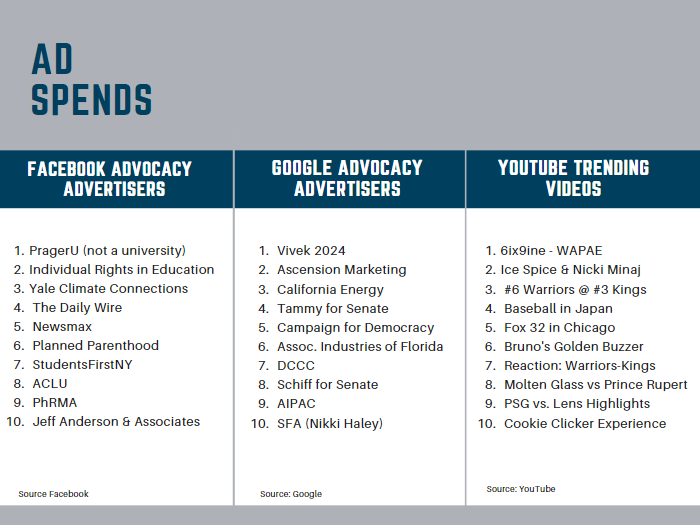 Did That Really Happen? — WHO Did Not Say Kids & Teens Don't Need COVID-19 Vaccine

After the World Health Organization announced new vaccine guidance last week, disinformation flooded online and wrongly claimed that the agency no longer recommended healthy children and teens receive COVID-19 vaccines. What the agency said was that in places where the option was to have a vaccine for rotavirus or measles, that those vaccine should be given first. The agency also said that countries should prioritize COVID-19 vaccines to at-risk patients. More than 1,500 Americans have died from COVID-19 in the last seven days.
Following Up — Philly Goes After Short-Term Rentals
We wrote about Airbnb three weeks ago and told you that multiple cities were unhappy with lost tax revenues and housing shortages created by the company's hosts. A Philadelphia councilman has said that there is virtually no followup on the hotel licensing that some Airbnb hosts in the city must have or about complaints filed against those properties. The city is now cracking down on both issues.
Protip — File Taxes for Free
After years of contentious squabbles between the IRS and Intuit TurboTax, that program is no longer part of the IRS Free File Program. Federal taxes are due this month, and ProPublica has a guided walkthrough for people who earn no more than $73,000 to file their taxes online for free.
Screening Room — Northwell Health's Ferocious Tiger
Science Fiction World — Mammoth Meatball
Lab-grown meat is already a thing, but an Australian company went full Jurassic Park. They spliced in a genetic sequence for a wooly mammoth to make a meatball while creating some buzzy headlines, and look, it worked. The product isn't for human consumption because our immune systems haven't been exposed to those proteins for thousands of years.
Coffee Break — Hurl An Asteroid At Bakersfield
Hurl multiple kinds and sizes of space debris at any location you choose. Play with Asteroid Launcher to choose the type of asteroid, its size and speed, and get the full effect of who and what you wiped out.