Good Monday Morning
It's April 10. Expect more turmoil this week as the country grapples with conflicting court rulings over Plan B, Florida looks to ban abortions after six weeks, and fallout continues over undeclared luxurious gifts and travel received by Supreme Court Justice Clarence Thomas from a billionaire benefactor who also collects and displays Nazi memorabilia.

Today's expanded Spotlight is 1,018 words — about 4 minutes to read.
Spotlight On … Social Media Pranks

Pranks posted on YouTube, TikTok, and Snapchat may be the technological descendant of shows like Candid Camera or America's Funniest Home Videos, but they are often produced by untrained, average users with no network or legal support.

Tanner Cook, 21, started a YouTube channel called Classified Goons last year. Cook's videos were aggressive, even in a no-holds-barred prank world with titles like "Faking Vomit on Uber Drivers" and "Taking Rackets from Tennis Players." Recently, he posted a 9-minute video pretending to be a Target employee.
On April 2, Cook was shot and wounded while filming a prank in a mall food court. Cook and the man who shot him may both be charged by Loudoun County (VA) prosecutors. Cook's YouTube channel which averages about 100 new subscriptions each day has averaged about 1,000 new daily subscriptions since the shooting.
The week before, a California mom was hospitalized for a social media prank gone wrong. Public health economist Lana Clay-Monaghan, 35, is a mother of twins. While shopping at Target near her home, she became disoriented and fainted when a bucket was placed over her head. A leukemia survivor who also suffers from epilepsy, Clay-Monaghan was hospitalized following the incident, which police are investigating as an assault.
This happens more frequently than you might expect. Two years ago, OnlyFans creator Briatney Portillo, 20, suffered a heart attack after competing in an online challenge that led her to ingest about 350 mgs of pre-workout powder containing caffeine and supplements without water.
Extreme social media pranks happen elsewhere as well. Japanese social media users licked and touched food before it was served last month in an act of "sushi terrorism." It brought to mind videos posted in 2019 by a Texas juvenile who licked ice cream before replacing it on the shelf. There were copycats, including Lenise Martin, 36, who was charged in Louisiana with a similar crime.
Six juveniles were arrested in Centereach, New York, last February, for performing the Kool-Aid Man challenge, which is allegedly based on the product's old commercial where a mascot runs through walls. They broke fences outside four homes by running into them before police charged them with criminal mischief.
Each generation pushes boundaries with pranks, but with 400 million guns in private citizens' hands and movie-quality cameras on phones, doorways, and businesses, viral videos entice increasingly dangerous activities.
3 More Stories to Know
1) Microsoft and Cobalt Strike software maker Fortra can cripple software used by hackers to attack hospitals under a unique court order. It's the first time a court has ordered malicious software disabled. In the meantime, Oakland officials continue to battle a cyberattack that's lasted two months. Last week, hackers published confidential police and medical records. It's believed that the hackers attacking Oakland were also behind attacks on Antwerp and hosting company Rackspace.
2) Conservative legal professor Jonathan Turley claimed that ChatGPT created a sexual abuse scandal involving him and students he was traveling with. The chatbot shared a nonexistent link to the Washington Post to support its claim. This newspaper says it has never published an article like that.3) Tesla employees shared photos and videos recorded by cameras inside the company's vehicles, according to an explosive new report. The images included nudity, accidents involving children, and scenes inside owners' garages or from their properties even when cars were turned off.
Trends & Spends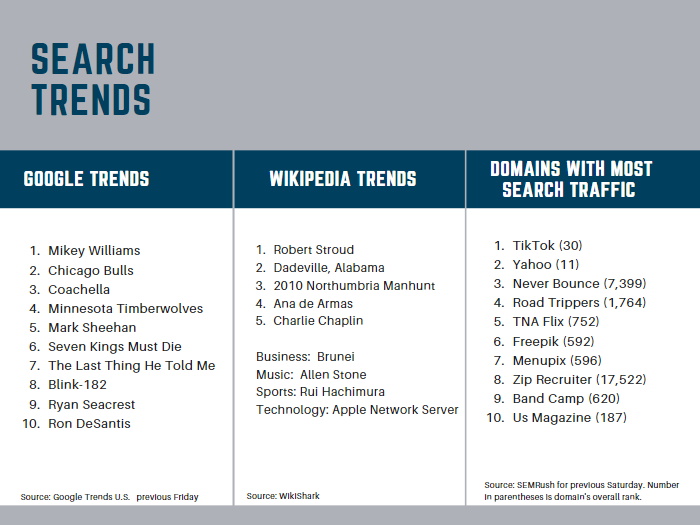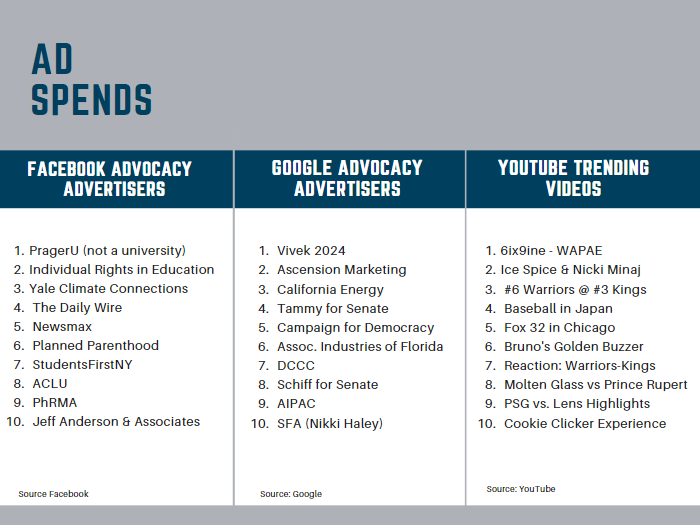 Did That Really Happen? — Trump Ads Return, So Do False Social Media Reports
For the first time in years, Donald Trump's advertising appeared in the Top 10 on Facebook and Google, but social media sites also dealt with false posts from the former president. In addition to fabricating the number of police officers involved in Donald Trump's arrest and arraignment, Eric and Donald Trump also falsely claimed the arrest and arraignment cost the city $200 million. Despite the Manhattan District Attorney's 900 employees, the office's budget for an entire year is much lower.
Following Up — Using ChatGPT to Summarize YouTube or Long Text
New creative ways to harness generative AI are constantly being released. I'm enthralled while using the Glarity browser extension to provide summaries of YouTube videos. I've successfully used it on interview segments, news stories, and even a church service where it identified the readings and music without that information included in the descriptions.
Protip — Making Your Calendar Private
After the WSJ published a cute reminder piece about some company calendars being defaulted to public, it's time to revisit how to ensure your data is private on Google or Outlook. 
Screening Room — Optic 2000 – AI Draws What Visually Impaired People Describe
Science Fiction World — NASA To Track Air Pollution at Neighborhood Level
Despite the climate denial catcalls from online pundits who may not have ever studied science as an adult, NASA has begun tracking hourly air pollutions readings at the neighborhood level. The Intergovernmental Panel on Climate Change reported two weeks ago that previous warming targets are no longer attainable.
Coffee Break — Finally, a Light Moment
I needed this video of a Belgian Shepherd copying his owner doing squats at the gym.
Sign of the Times