Good Monday Morning

It's March 27th. Sport fans are watching the start of baseball season on Thursday and the NCAA Final Four on Saturday.

Today's expanded Spotlight is 1,328 words — about 7 minutes to read.
Spotlight On … Law Enforcement Technology

In our fifth annual report on police technology, we examine how U.S. law enforcement agencies are increasingly using sophisticated police surveillance tools.
Last year, we wrote about the insidious tracking by toll booths, vehicles, cellphones, and location data brokers. In prior years, we addressed facial recognition misuse by police and the use of unproven algorithms to identify individuals the software predicts are "likely to break the law."
Most of those programs are still in effect. For example, facial recognition abuse has led to police arresting people and jailing them for as long as a week even when they were nowhere near a crime scene.
Doorbells and dash cameras are generating more police surveillance. There are also new ways police use cellphone records and data, and some very specific DNA tools without the judicial protections most people expect.
Doorbell and Consumer Cameras
American homes have an estimated 12 million doorbell cameras. Tesla and BMW vehicles can record from four cameras simultaneously in addition to the millions of vehicles that have installed third-party dashcams. America's homes and cars are covered by a vast, often unregulated, camera network.
Police often have access to these millions of cameras without a warrant. San Francisco, an early pioneer of facial recognition protection, approved a one-year pilot program for monitoring those cameras' footage. The network of cameras can be used for large public events, even if no crime has occurred.
During a controversial program in Florida, police installed Ring cameras on domestic victims' doors in exchange for authorization to review the footage. Cameras deter crimes according to police, but some victims rights groups disagree.
According to Google and Amazon, police usually need a warrant or subpoena to access camera footage. They admit, however, that police have emergency processes in place with their companies to release footage without homeowners' consent.
A company called Flock Safety, which works directly with police and homeowners associations, installs license plate readers, which are a startling use of cameras by law enforcement. These associations have been able to install the readers on their common grounds and allow data to be uploaded to police–without the local government's knowledge or consent. In Lake County, Florida, nearly 100 cameras were installed overnight without government knowledge or permits.
Officials acknowledge that the surveillance devices can be used for everything from stolen vehicles to immigration enforcement. Activists are concerned that other behaviors will be targeted.
Cellphones
The Jan. 6 insurrection was famously tracked by cellphone data through the Capitol. Apple and Google's ability to constantly track your phone's location has made location data a treasure trove of information about your behavior.
Police have software called "Fog Reveal" that they can use to identify individual phones and match those devices to commercially available data without needing Google or Apple's cooperation. This is important because police can use commercially available data without a warrant. This month, FBI director Christopher Wray acknowledged the agency had purchased location data.
Law enforcement uses another software package called GrayKey. Even though Apple began encrypting phone data nearly 10 years ago, GrayKey can hack Android and iOS devices. Local law enforcement as well as the State Department and Drug Enforcement Administration are customers or prospects for the device, according to Motherboard.
DNA Databases
Using commercially available DNA results to find criminals has long intrigued law enforcement, and we've written extensively about how partial matches have led to arrests in long-dormant or high-profile cases.

A new service called DNA Justice collects the same results generated by companies such as Ancestry, 23 and Me, and My Heritage, so that police have access to a completely opt-in database. The service is brand-new and measures its database in hundreds of records rather than millions. Users who donate their DNA records will be notified if their record is used to help solve a case, which is something commercial labs do not currently offer.
Not Just the U.S.
Law enforcement officials are making the most of available technology in countries throughout the world. During Punjab authorities' search for antigovernmental activists last month, police blocked mobile phone service and filtered websites to 27 million people in India.
Paris is installing AI-powered cameras to protect crowds expected to flood the city during the Olympics next year. The cameras will look for suspicious behavior, and critics are concerned that their installation will remain long after The Games end.
That's not a far-fetched concern given the increasing rate of law enforcement using technology to proactively surveil individuals.
3 More Stories to Know
1) Since adding GPT-4 to its search results, Microsoft Bing traffic has grown 16% and passed 100 million active users for the first time.
2) Musicians Ne-Yo, Akon, and Lil' Yachty, actress Lindsay Lohan, and influencer Jake Paul were among the celebrities fined by the SEC last week for failing to properly disclose their relationship to cryptocurrency issues that they promoted.
3) North Korean hackers are targeting government officials, journalists, and academics a variety of ways, including a Chrome-based (or Edge, Brave, etc.) extension that remains hidden. Bleeping Computer has details on how to detect that program.
Waiting in the Wings
Protecting yourself from location data
What you can really do with those chatbots
How algorithms are automatically denying medical claims
Put your email address in the form at this link and you'll get a free copy of Spotlight each Monday morning to start your week in the know.
If you're already a free subscriber, would you please forward this to a friend who could use a little Spotlight in their Monday mornings? It would really help us out, and you know they'll love it too.
Trends & Spends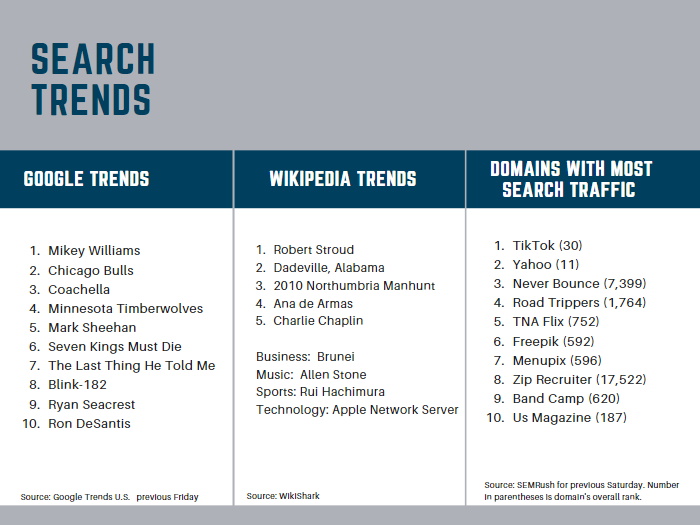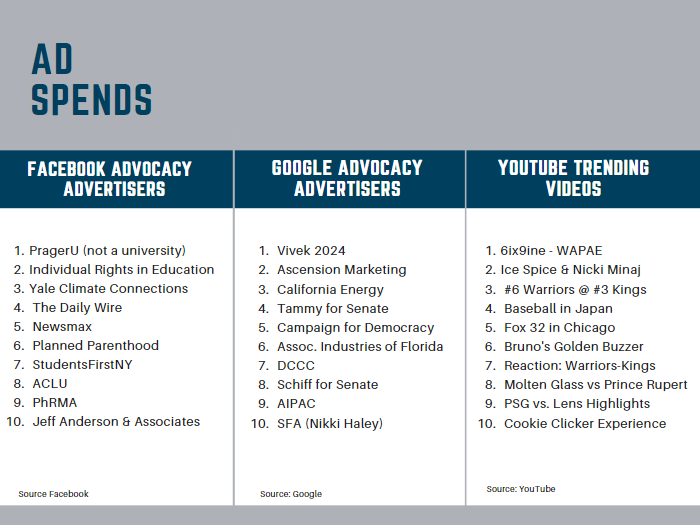 Did That Really Happen? — TSA Rules Peanut Butter Is Liquid
The great social media debate over the state of peanut butter began when a podcaster tweeted that the TSA had confiscated a jar of peanut butter at an airport security checkpoint because he couldn't fly with more than 3.4 ounces of a liquid. Yes, it's legit, and TSA posted their definition of a liquid.
Following Up — Google Chatbot Sides with Justice Dept. in Antitrust Case
Jane Manchun Wong, who we regularly quote, got the Google Bard chatbot to post a response siding with the Justice Department against Google in its digital advertising antitrust case. Not surprisingly, Google Bard wouldn't comment about the same issue several days later. Read the exchange.
Protip — Enable 10-bit Color on Your Android Camera
A very cool walkthrough from Tom's Guide shows you how to increase the bit depth on your camera from the default 8-bit to 10-bit. That increases the "tonal range" from 16.7 million shades of color to 1.07 billion, which is a lot more.
Screening Room — Northwell Health's Ferocious Tiger
Science Fiction World — UK Backs Rolls-Royce Nukes
After funding a study last year, the UK Space Agency announced last week that it will sponsor a Rolls-Royce project to build a nuclear reactor on the moon. That is the most science-fiction sentence I've ever written here.
Coffee Break — Radio Time Machine
Want to hear a song from Angola's radio in 1930 or one of dozens of countries from any decade since 1900? The radio time machine allows you to select a decade and then tune to a country. It's great fun.
Sign of the Times