Who do you think really holds the keys to a captive affiliate audience?
Is it Microsoft, populating a desktop with all sorts of links and browser shortcuts?   What about hardware manufacturers who do the same except embed actual software on the system you purchased so that they get a piece of the pie if you convert?   Or maybe it's a company like Intuit, which made really great products in the B2B and B2C worlds before it began compromising the user experience with continual upsells.
Guess again.
The U.S. Postal Service, under fire for financial mismanagement from all quarters has become the equivalent of the Plaka in Athens — a place to buy almost anything with haggling supposedly encouraged but never really done very well. I've been critical of the USPS before, but now have experienced the wonder that is the business change of address process.
After changing addresses for two company names,  our business credit card was charged $1 for each transaction.  From what I remember of pricing, the elimination of labor in a process drives down and eliminates costs.  So why is this formerly free service now available only with $1?  The post office says it's to eliminate fraud.  I'm guessing there is another way.
But a dollar or two is nothing compared to the onslaught of advertising EVERY postal customer must wade through in order to complete the transaction.  After dumping multiple magazine pitches and anything remotely related to someone moving, I was emailed a separate confirmation for each transaction: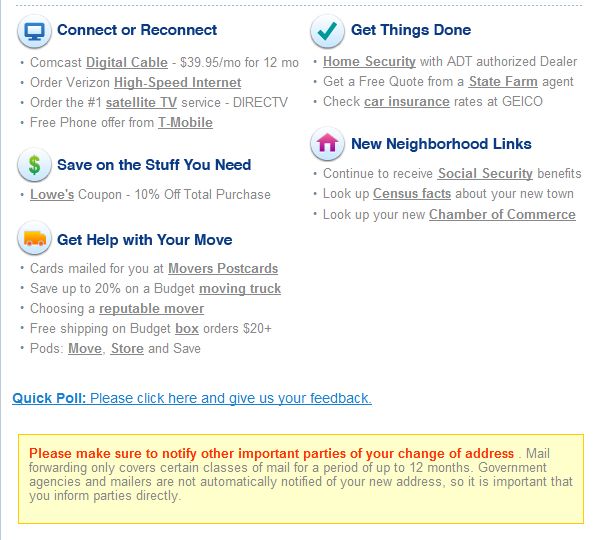 I still find it humorous that the FedEx drop off box is at the front of the local post office because, Lord knows, there aren't enough FedEx drop off points in the U.S.   I wonder what the rates are for getting top placement on the change of address form.
Then I wonder if the USPS, like Amtrak, either wants to be private or public.  Because maybe FedEx can offer more services at an equal or lower cost than the postal service.
Why stop there?
Maybe Greyhound could get Amtrak-level subsidies and compete on a level playing field. But if you're an affiliate marketer, you didn't just lose out to Dell, Microsoft and Intuit. You have the entire USPS to compete with as well.
Related articles by Zemanta