TODAY'S SPOTLIGHT
Search heats up during July's dog days as Google unveils new mobile advertising features and Microsoft BIng counters with terrific demographics from its site. Meanwhile, Adobe Flash continues struggling as Firefox blocks it from the browser, and a firm in a unique position is hiring a Search Engine Optimization Manager.
And that is what you need to know for this week without the hype.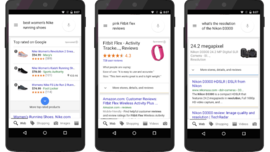 Google Officially Launches Buy Button on Mobile
We told you last month that this was coming: Google has launched BUY NOW buttons on mobile. Google also says that desktop buy rates are 2x mobile buy rates–something we've also recently shared from our own clients.
Firefox Blocks Flash
Mozilla has officially blocked Flash from working in its browser. Facebook's security head wants the date when Flash is discontinued. It's time to change now if there is any Flash on your organization's website.
Google is Hiring An SEO Manager–Don't Say You Don't Need One Too
It's not a joke or an act. Google is hriing a "Program Manager, Search Engine Optimization". You can read the jargon-filled job description or accept the fact that there are SO MANY ranking signals that even Google needs someone to monitor and advocate for SEO.
Bing Says 33% of Audience Makes $100K or Better
Bing has released new stats. Some we all knew– about a third of the continent's searches go through BIng after all. But 33% with a household income (HHI) of more than $100K? 47% college or better with 15% grad school? Impressive numbers!