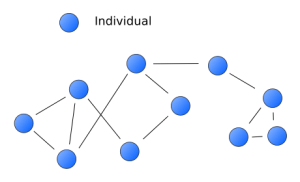 In December, we wrote that Google had "fundamentally changed the search engine results for everyone in North America…" At issue was the notion of "personalized search".   That's where Google builds a dossier of people's interests and then tries to tailor search results to meet those interests.  The entire process' details are much more complicated than anyone except a math whiz specializing in search engines should delve into and certainly not in a blog.
But Google changed the rules.  Previously a user had to opt-in to this program. Now anyone who didn't want to participate had to opt-out. Do No Evil takes a hit as a company grows.  The philosophy takes a huge hit when an entity completely avoids permission marketing.
Google Tries To Out Facebook Facebook
You know your friends on Facebook?  And you know your Flickr photos?  And maybe that blog or forum you frequent?   Not just you, but the people who interact with you — your social graph — will soon influence your Google search results. That process is opt-in for now and so far seems to be limited to Google Images. Then again, personalized search was opt-in until about 7 weeks ago. Google cheerily calls its announcement "Search is Getting More Social".  That's their name.  Our headline today is "Searching Now Influenced By Your Friends".  Hope more than you hope for most things that Google doesn't opt-in for everyone for "social search". As many shots as we take at the company, their search results remain the defacto standard in North America and in much of the world.  And while I love some of my friends and like all of them, I don't want their biases to take a valuable "page one" spot away from another source.  I think it's bad enough that my biases can alter search results.  I certainly don't need my friends and family altering my  results.