Good Monday Morning

It's July 17. Despite annual attendance approaching 150,000 people, expect little news when Comic-Con begins in San Diego on Thursday. With actors and writers on strike, studios including Marvel, Lucasfilm, Sony, Netflix, and Universal have reduced their presence or canceled events.

Today's Spotlight is 1,338 words — about 5 minutes to read.
3 Stories to Know
1. Uber Eats purged 8,000 ghost kitchen listings beginning in March after the number of listings had doubled in only one year. The company's new rules require that a ghost kitchen menu differs at least 60% from the restaurant's regular menu. Ghost kitchen brands operated by famous restaurants include Pasqually's (Chuck E. Cheese), Conviction Chicken (TGI Fridays), and Thrilled Cheese (IHOP).
2.Twitter stopped receiving privacy auditing services from Ernst & Young because of outstanding invoices totaling more than $500,000. As Twitter filed a complaint last week asking a judge to block the FTC from monitoring its data security, Elon Musk and Republican allies on the House Judiciary Committee misrepresented the FTC's involvement. Twitter signed a consent decree in 2011 to have a third party monitor its data privacy after being accused of deceiving consumers and putting their data at risk.
3. Health data for as many as 11 million Americans is available for sale on the dark web. HCA announced the hack on July 10 and originally reported no clinical health data was included. Industry website Data Breaches later obtained examples of breached data that included a lung cancer assessment.
Spotlight on Chinese Tech Companies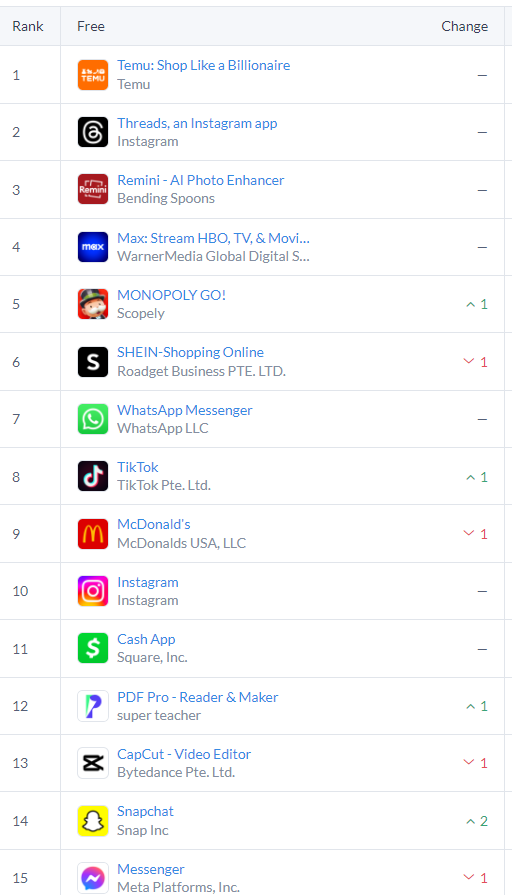 It is difficult to keep up with all the news about Chinese tech companies. The hacking of U.S. officials, including Commerce Secretary Gina Raimondo, by Chinese state-sponsored hackers, announced last week, has escalated the situation.
Here's our look at what's happening and companies you might want to rethink.
Hacking
Chinese exports have been tempered by the U.S., and the Commerce Department has repeatedly threatened Beijing over its involvement with Russia's tech industry. Raimondo became a prime target of a Chinese hacking attack that officials say began in May and lasted for weeks. The attacks also targeted high level officials including Secretary of State Antony Blinken. It is not the first time U.S. government emails have been compromised. Russian hackers successfully breached multiple agencies in 2015.
E-Commerce: Temu & Shein
Temu and Shein are two of the biggest e-commerce success stories ever, but based on Wired's analysis of Temu's costs, the company loses an average of $30 per order and hundreds of millions of dollars per year. This does not include $14 million spent on Super Bowl advertising last January. A company source told Wired that the company is targeting annual spending of $1,500 per household. That is possible because of a legal loophole that allows Temu to ship orders under $800 duty-free to the U.S.
Temu and Shein both exploit that loophole, according to a June House Select Committee report, but the committee focused on allegations that captive Uyghur Muslims were being forced to work for the companies. According to the Australian press, Shein's clothing contains toxic chemicals and contributes to microplastic pollution.
Engagement & Attention — TikTok, Cap Cut, Lemon8
When Congress and other nontechnical organizations criticize Chinese tech companies involved in social media, they often miss the mark. Due to its superior algorithm, TikTok has been able to reach previously unknown engagement levels compared to Meta and Western social media companies.
In reality, TikTok is a broadcasting platform with social media features. Consider it more like a TV network with a like button. In the real world, TikTok isn't capable of hacking a phone or spying on your content choices any more than American companies. It is the ability to create and distribute compelling influence operations that poses the real threat. Last year, FBI director Christopher Wray warned against the app for those very reasons, but Luddite-like lawmakers and state officials have ignored staff recommendations and instead raised unrealistic security concerns.
High Tech — Hikvision, Huawei, ZTE
A video surveillance company called Hikvision is often sanctioned by Western governments and has been involved in a number of controversies, including poor security, involvement in Chinese genocide efforts, and espionage. Most recently, Russia invaded Ukraine with support from Hikvision. Just last week, industry trade group IPVM announced that child pornography was being sold online by hackers who exploited the security holes in the company's products and also used the company's connectivity features to sell child abuse images on Hikvision's own networks.
Meanwhile Huawei and ZTE are phone tech firms that have been effectively banned in the U.S., Japan, and Australia, but still remain a popular low cost option in other countries. Both companies have assisted the Chinese government efforts in holding Uyghurs in internment camps. In addition to industrial spying, the companies engaged in espionage efforts in Iran and North Korea.
Next: Chinese tech companies have lost nearly $1 trillion in market capitalization in two years. A good deal of the loss comes from internal Chinese government and financial pressure on those companies that may soon be lifted.
Practical AI
Quotable: "I don't feel that this kind of technology is yet at a place where I would want it in my family's health care journey … but it takes the places in health care where AI can be beneficial and expands them by 10-fold."
— Google Senior Research Director Greg Corrado to the Wall Street Journal about the company's new medical AI product that reportedly has a diagnosis rate similar to human doctors.
Noteworthy: The FTC has opened an investigation into ChatGPT maker OpenAI to determine the amount of consumer harm from privacy and accuracy concerns.
Tool of the Week: Ask Your PDF summarizes PDFs and other file types and lets you question the chatbot about the data. There are a few extra steps because ChatGPT doesn't directly accept uploaded documents, but it's a nice indicator of where we're going.
Waiting in the Wings
How algorithms are automatically denying medical claims
Amazon's data about you expands beyond shopping
Put your email address in the form at this link and you'll get a free copy of Spotlight each Monday morning to start your week in the know.
If you're already a free subscriber, would you please forward this to a friend who could use a little Spotlight in their Monday mornings? It would really help us out.
Trends, Spends & TikTok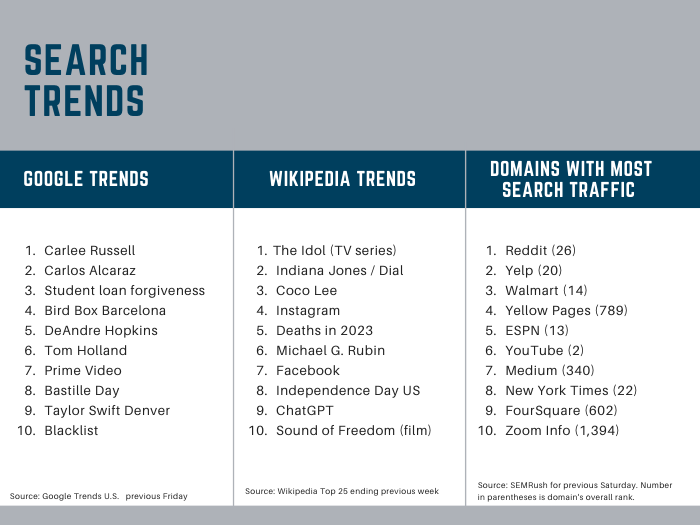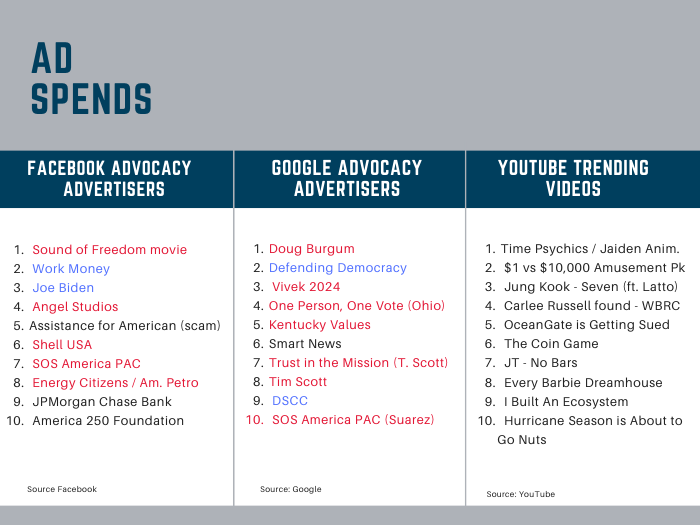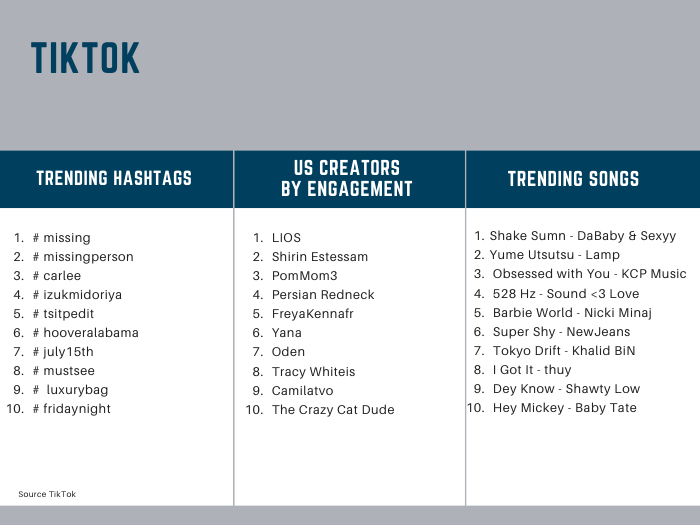 Did That Really Happen? — Yes, Rep. Burchett Claimed UFO Coverup
Rep. Tim Burchett (R-TN) appeared on a Fox News segment last week and accused the U.S. government of a decades long cover-up regarding UFOs. Snopes has details and a video of the wacky interview.
Following Up — IRS Considers Tax Filing Business
Following abuses by major tax preparation companies that led to their ouster from the IRS' free tax filing portal, the agency announced that it was entering a limited pilot to develop its own software. The IRS originally created a free tax filing portal to avoid directly competing with products from companies like H & Block and TurboTax.
Protip — Printing Directly from Android Phones
Stop emailing files to yourself. Digital Trends shows you how to print directly from your phone. There's also a 2021 link there for iPhones if you need those directions.
Screening Room —  Progressive's Dr. Rick
The always funny Progressive pitchman helps new homeowners navigate social media.
Science Fiction World —  Drones, Big Drones
Companies are racing to build new drone equipment that functions like a low-flying satellite above commercial jets while not landing for weeks. Don't mistake these for your personal use drones. These have wingspans stretching 80 feet or more.
Coffee Break — Take the Font Finder
This really smart interactive feature lets you test your reading speed against different fonts and choose the one that works best for you. I've already changed the font in my word processor. 
Sign of The Times