Highlights
Remember that Amazon Prime plane picture in last week's edition? Yep, whispers were making the rounds that Amazon wanted to get big in delivery. They did.
Google Chrome's  "Not Secure" warnings are coming to all non-https pages in July.
Facebook is testing a downvote function that lets users rate comments.
Today's issue of Spotlight takes an average of 3 minutes and 30 seconds to read
Amazon Gets Bigger, Faster
We wrote last week that Amazon was eyeing an acquisition. Instead, look for Shipping with Amazon to launch and reduce the company's reliance on the USPS, FedEx, and UPS. Amazon spent about $50 billion on shipping over the last three years so this move has leverage.
This move also has precedence. Amazon Web Services, the company's cloud business, now accounts for more than 60% of Amazon's operating income. Amazon launched the service in 2004 to resell the Internet hosting services it developed for its own use. Delivery could be a similar success.
Jeff Bezos' mantra of "get big fast" is almost surreal in the company's execution. Amazon delivery is only one example. Amazon announced its Whole Foods acquisition less than 250 days ago. Since then, they've also:
announced a search for a second headquarters housing 50,000 employees,
partnered with Warren Buffet and JP Morgan to start a healthcare company,
and announced two hour delivery windows for Whole Foods groceries in four cities.
Google Gets Customer-Friendly
Visit an unencrypted web page using Google Chrome beginning in July, and your browser will show that the page is "not secure". That's true today for e-commerce pages. But starting in July, Google will flag every page without encryption just as they've been warning that they would do. 
Google is also requiring ticket resellers to be certified and declare the face value of the ticket. The other kind of tickets–airline tickets–along with hotels and other travel services are getting a redesign. Travel info firm Skift says: "Google is one step closer to its user-centric vision of travel booking,"  Translation: Google wants to sell more travel, not travel advertising.
And hallelujah, word came from Lifehacker Thursday afternoon on Twitter that Google Chrome now has a "mute site" instead of a "mute tab" button. That means that the site's audio will NOT play when you've selected that option. And your browser stores your choice so you only set it once per site.
To mute a website while using Google Chrome: hover over the tab at the top of the browser page, press right-click once, and scroll down. Silence is that easy!
Facebook Gets Comment Voting
You've probably seen comment sections that allow you to see "Top Comments first". Facebook is testing a "downvote" comment link on comments left on personal pages. It's available only on a small sample of pages. Sites like Reddit and Imgur already have this function, as does blog comment platform Disqus. 
Facebook is adamant that this is to downvote comments only. The fabled thumbs-down dislike button still does not exist.
Hoax Alert: Facebook didn't limit your content to 26 people
If you haven't seen the downvote link yet, you've probably seen a post from one of your Facebook friends asking you to comment on their post because Facebook has limited the newsfeed to 26 people. It's a hoax that got new life when a version appeared that read, "I checked Snopes and…"  Read Snopes calling foul on the whole thing.
Monday Coffee Break
It's over now, but The Washington Post captured the collision of SEO and Philadelphia Eagles fandom. Google's quest to "organize the world's information" sometimes goes astray. Sometimes it is deliberately led astray. For a brief time, Eagles quarterback Nick Foles was the answer to the search query, "who owns the New England Patriots" in a nod to Philadelphia's Super Bowl win.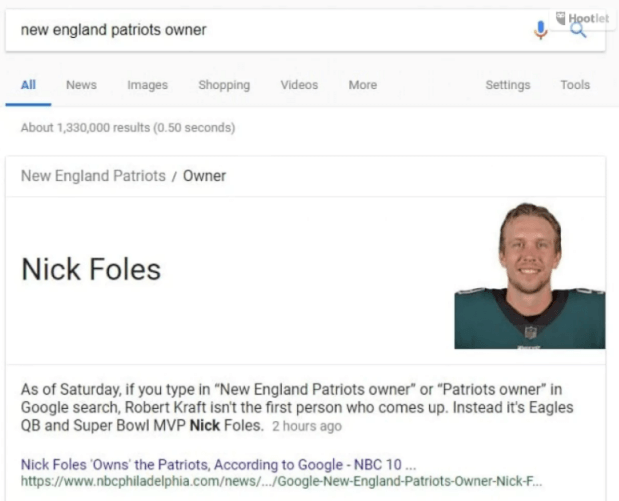 Get your own free copy of Spotlight in your email every Monday at 6 a.m.