You can't say you're against the war, George, but that you support the troops.  They're over there asking 'Why are we dying if the people for whom we fight don't think this cause is worth supporting?'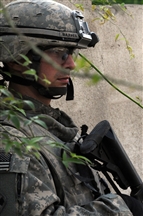 A retired U.S. Army colonel who spent enough time in Vietnam and other places to be given a stage for his voice whenever he cares to comment on war said those words to me nearly a year ago. As a nation priding itself on some measure of freedom of speech, our feelings about war as a concept and the two open wars in which the United States is fighting ranges across the spectrum.
But I absolutely understand what this retired officer was saying, and it makes a lot of sense. Give us resources, support our efforts all the way, let us go win. He expressed those sentiments to me that night, and I remain intrigued at how much they mirror a business plan.
Execute against your strategy.
Once you embark upon that strategy, saying to colleagues, "Well, I like John, but I don't support his R&D strategy," isn't going to endear you to the board. That's not to say that you should blindly follow any strategy, but supporting the players while being vocal about not supporting their efforts — be they in board rooms or in battlefields — is a bad tactic.
Once your organization embarks upon a new direction, you're either in the tank or outside the tank.  And, frankly, Chinese protesters aside, tank beats human just as effectively as rock beat scissors. Dealing without tanks would be great, but once they roll, pretending they're not out there is the same ostrich philosophy that killed many great businesses when disruptive technologies surfaced.
So think today about how your business may be suffering from too much discourse or a success-freezing split between people and strategy.  If both aren't aligned, your business is in trouble.
As for Veteran's Day, the mail won't run (unless it's Express Mail), the banks won't be open and government offices (usually state and local too) are closed.    The schools will be open.  Most private sector workplaces will be open.  Stores will certainly be open as they announce more sales.
So rather than spouting patriotic slogans wrapped around this holiday before your business segues to Thanksgiving and then the secular "winter holidays", how about taking a moment or three out of your day tomorrow.  If you have a customer or vendor or other colleague that served in the armed forces, send them an email and simply acknowledge their sacrifice.  If you know lots of vets, put their addresses in the bcc section and tell them you're writing to multiple people at once. This is a tactic you can certainly endorse no matter what your feelings are about U.S. military action.  As of last week, more than 4,100 U.S. military personnel have died in action. Another 30,000 plus have been wounded.  Stop saying you support the troops, and start figuring out how you as a businessperson can thank them while your country is at war.