It's February 6th. Google has scheduled an announcement at 8:30 a.m. ET Wednesday regarding search and AI. YouTube livestream link
Today's Spotlight is 953 words — about 4minutes to read.
Spotlight On … Music Streaming
Doomsayers warned about streaming music two decades ago. That technological leap changed everything about the music industry. Songs instead of albums and leveraging social media and video sites like TikTok and YouTube are top priorities in today's market.

Payouts Are Great… for about 33 artists
Three dozen artists with an average of 50 million monthly listeners have a new world of riches. Legends such as The Beatles, Elton John, Bruce Springsteen, and the current crop of stars, like Taylor Swift, Justin Bieber, The Weeknd, and Ed Sheeran, get a bigger chunk of streaming revenue, but all see the writing on the wall. Springsteen sold his catalog for $550 million at the end of 2021, and Bieber sold his two weeks ago for more than $200 million.
That is because payouts from streaming services like Spotify and Apple Music are notoriously low and are spread across various rights holders, including music companies, songwriters, performers, and a lot more. This has been known for years. A decade ago, Grammy-nominated Ellen Shipley posted her streaming royalties after writing hits for Belinda Carlisle, Anita Baker, and others. Over three months, Shipley earned $39 from Pandora for more than 3.1 million streams of a worldwide smash and #1 hit in multiple countries.

Creatives Now Get Paid A Lot Less
Music has become increasingly commodified in recent years. Prime members now have free access to 100 million tracks in shuffle mode on Amazon Music. There are times when Spotify uses music that may have been automatically generated or that has been prepared by "fake artists", those paid by the company to keep its costs low by providing music at rates that are even lower than what recording artists normally make.
Music companies negotiate these rates with streaming service providers, and they are typically a fraction over 15% of a streaming service's eligible revenues. It's a fixed amount that's locked in through 2027 and is calculated based on subscribers and advertising. The numbers are complicated, but Billboard crunched them this way: Of the 15%, music companies get over 64%, artists 16%, songwriters and publishers about 9.4% each, and administrative organizations get the rest. That's not all the money Spotify or Apple make–only the percentage that they've agreed to share.

Industry members want a bigger cut than they currently have, and they want major sites, such as TikTok, to start paying.
Today, creatives struggle to live off their work — remember that artists get 16% of that 15% pie, while songwriters get 9%, and the outlook is grim. New music software developed by Google can be used to create music from existing audio clips, complete with lyrics, and they've built another program that generates music from a text description.
3 More Stories to Know
1) Amazon is pausing expansion of physical grocery store locations, closing some existing stores, and increasing the minimum purchase for free delivery of online orders amid cost-cutting. The retailer holds a 4% market share (rival Walmart has 18%).
2) Online pharmacies selling mifepristone and misoprostol are sharing information with Google and other third parties, according to a ProPublica analysis. Last month the FDA said that women could obtain the medications online, but this data sharing means that companies like Google can be sent subpoenas to produce the information.
3) The FBI and House of Representatives are probing Snapchat's role in the fentanyl crisis. The issue was raised at a House Energy and Commerce committee meeting last week after Bloomberg reported that the FBI is investigating fentanyl dealers reportedly operating on the site.
Trends & Spends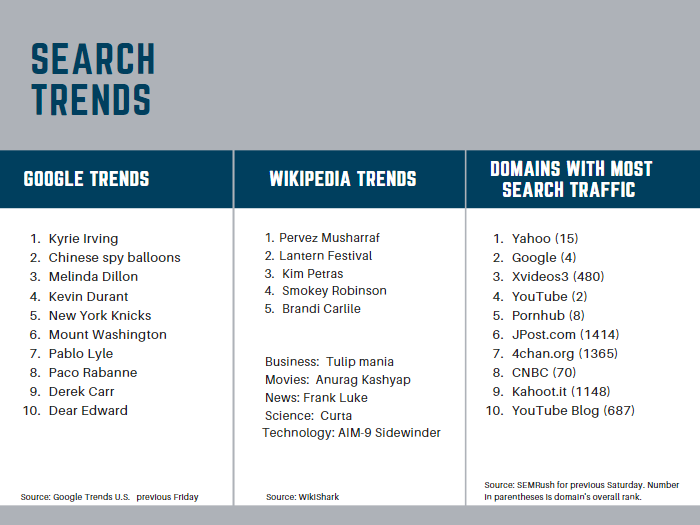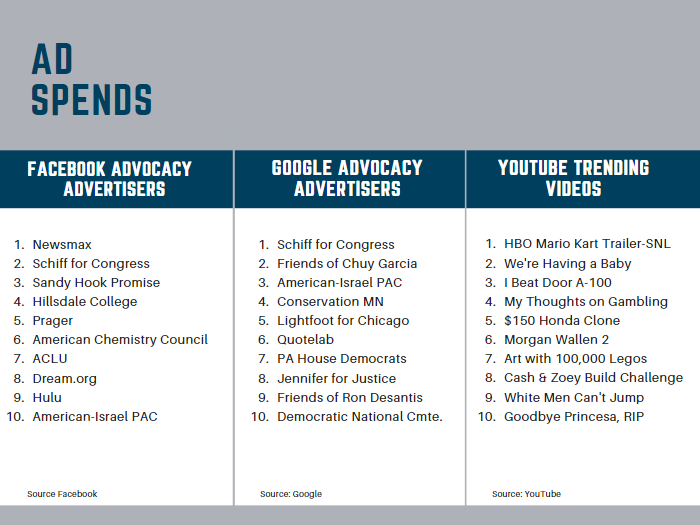 Did That Really Happen? — Netflix Accidentally Posts Password Sharing Crackdown
Netflix is cracking down on password sharing in Chile, Peru, and Costa Rica before rolling out stricter rules worldwide, but had a mess on its hands when it accidentally published the guidelines in multiple countries, including the U.S.
Following Up — ChatGPT fees
OpenAI said that rising costs and usage will lead them to offer a commercial level of access called ChatGPT Plus with guaranteed access and new features for a $20 monthly subscription. The company also said that it will continue to offer free access.
Protip — ChatGPT Prompt Builder
A hat tip to GMU marketing professor Shaun Dakin who found this collection of several hundred ChatGPT prompts in categories ranging from writing to social media to email.
Screening Room — Dave Grohl for Crown Royal
Science Fiction World — Those Adorable Delivery Bots
George Mason University is celebrating its fourth anniversary with those adorable delivery bots on campus that we've written about before. They've completed more than 300,000 deliveries, and the fleet now totals more than 50 vehicles.
It's a great demonstration of how a community experience can change with a technological advance, including shorter lines on campus and more convenience especially during poor weather or at night. There are more fun facts at this link.
Coffee Break — 10 Unforgettable Windows Screens
Perhaps you remember when Windows was released or that one screen saver or maybe that scary blue screen. They're all here in this collection of 10 unforgettable Windows interfaces that Gizmodo curated.
Sign of The Times