An email hit my box this weekend that was written by someone so livid that steam was still visible. My correspondent had received a salvage email from priceline.  You know what a salvage email is.   "We know you haven't been a customer, but let us entice you…"  The company personalized the graphic and showed a picture of William Shatner with his right fist drawn back in a punching stance. This is that picture.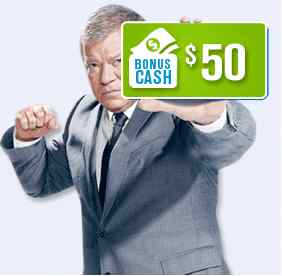 The copy was punched-up too with a specific call-to-action.  It's been a while since you booked a trip on priceline. Claim your $50 Bonus Cash coupon below and I'll remove you from my "people I'm going to judo-chop for paying full price" list. My correspondent didn't care to be threatened despite any campaigns priceline is running.
I talked with some people who thought my email complainer was being sensitive.  But this is just bad marketing all around.  A nice aside came from my 22 year old son who is majoring in sociology at George Mason University.  "If the ad were for wrestling or MMA, then they might pretend to be violent," he said.  But even he agreed that pretending to be violent would be along the lines of threatening to make you watch the show, not specifying how the fighter would beat you up to do so.  And he understood that without context, the ad could be offensive.
Priceline missed here because their copy was too descriptive and their ad was too assumptive.   And because like my kid said, "There was no context" and no permission to add the former customer to the context.  Priceline thought my friend was following their series of Shatner broadcast ads.   They guessed horribly wrong, and they've lost a customer for life. Meanwhile, it's been years since I studied martial arts, and I never studied judo, but I always thought that hand strikes such as a "judo chop" were not part of the technique.  So besides being threatening, the copy is lazy and substitutes "judo" for "karate" because I guess all those things kind of look alike.
Next: I've been blacklisted!  It's amazing.  I got the notice yesterday.  Subscribe to the blog below or in the upper right to learn who blacklisted me and what I'm going to do about it.