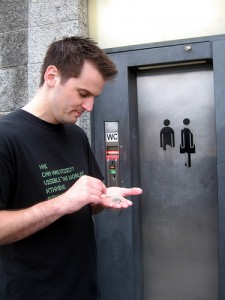 Remember our friends at Ryanair who made that comment last year?  We wrote in February 2009 that companies that called their customers names had little chance of succeeding in the long run.
That was in response to three different Ryanair employees criticizing Irish blogger Jason Roe.  The full quote was
It is Ryanair policy not to waste time and energy in corresponding with idiot bloggers and Ryanair can confirm that it won't be happening again. Lunatic bloggers can have the blog sphere all to themselves as our people are far too busy driving down the cost of air travel
Guess how they're going to pull off decreasing air travel costs now?
According to a CNN report, the long awaited pay toilet on the plane may be coming to Europe soon.
We just wrote yesterday about Batchblue's Batchbook program and over-servicing customers.  I can't think of a better contrast against a company that wants to charge captive customers for using a toilet versus a company that delivers amazing service before collecting a penny.  Having modeled the ROI on service and retention for decades, I know I would bet on the smaller, startup company ahead of the one grabbing headlines by pushing its base price as low as possible.
Photo via sapphir3blu3