Good Monday morning. It's March 23rd.

We are not insensitive to the COVID-19 pandemic, but we're going to keep pushing on in our new normal. Telling you the news without constantly referencing the coronavirus pandemic isn't possible, but we also believe that some industries may have permanently shifted to a new structure.

Talking with small business leaders last week and this weekend, I'm struck by how many small groups are moving completely into digital, even groups that only had a two or three page website until now.

Boston Fed Chair Eric Rosenberg says that our economy may be shocked with up to 30 percent unemployment in Q2. Rosenberg has also expressed skepticism about past Fed intervention creating long-run change. Meanwhile, Treasury Secretary Steve Mnuchin says that the federal government's total assistance for corporations could reach $4 trillion. For context, the combined value of every publicly traded company on the planet was nearing $90 trillion before this crisis.

Reach out to George if you need to brainstorm about your organization doing new things in a digital way. We've already had these conversations with clients and friends. Now more than ever, we need to all work together and support each other. Just press REPLY in your email client to send a note.

Today's Spotlight is 1,108 words, about a 4 minute read.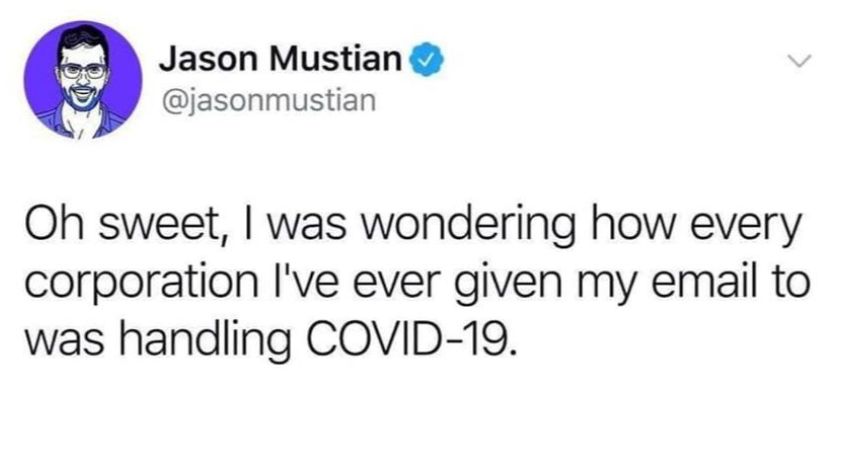 2. COVID-19 Online Resources and News
Trackers
Covidly – my new go-to for news uses both of the sites below as sources
Johns Hopkins
Worldometers
Consumer Information
BBB resource center (charities, events, daycare, and scam info)
Audible – free kid and family stories for mobile, tablet, and computer
10 Best Harry Potter Zoom Backgrounds (yes, your kids also will be zooming)
My Fridge Food – A favorite. Get recipes based on what you have on hand
3. Search Engine Optimization News
Google is continuing to refine the search engine results page for mobile displays. Ads were removed from the right side years ago and now featured snippets are gone. The end result is a longer, not wider, presentation and less screen real estate for organizations to promote their message.
Mobile screens are about 5.8 inches tall, or half the height of a midrange computer monitor. Don't despair if your website is small and your organization isn't an international giant. Search is all about getting more website traffic that buys your widgets and orders your services, not whose site shows up first.
Google has stopped accepting local reviews during the COVID-19 pandemic as part of limiting Google My Business functionality since their employees are working from home. Updates to health-related businesses are being prioritized during the pandemic. Finally, there are new code techniques to show Google's indexing software that events on your website have been canceled.
4. Also in the Spotlight – Privacy & Protection
The entire security industry is holding its collective breath and waiting for customer files or other sensitive information to be stolen now that tens of millions of people are exclusively remote and working on less secure home networks.
This Electronic Frontier Foundation article will start you down the path you need to travel as you think hard about this issue.
5. Following Up: Clearview AI
We've told you about Clearview AI and the database of facial images they removed without authorization from the Internet's biggest websites. Kashmir Hill, now at The New York Times, continues to cover this story extraordinarily well.
Read "Before Clearview Became a Police Tool, It Was a Secret Plaything of the Rich"
6. Debugging: Coronavirus Hoaxes & BS
The AP assembled a list of fake claims and hoaxes about the COVID-19 pandemic. Among them are using a hairdryer in your nostrils, the nonsense about martial law, salt water gargles, and other things too good to be true.
Do yourself a favor and read it here so you can debunk others.
7. ProTip: Transcribe Speech
I was a little skeptical about Google Translate's power to transcribe speech in realtime, and well, I was wrong. Get the free app on your phone and translate between any combination of English, French, Hindi, Portuguese, Russian, Spanish, and Thai.
Extra protip: can't hear someone in a noisy room? Start the app and put your phone on the table.
This is getting darn close to the Star Trek universal translator.
8. Great Data: Each Country's Oldest Company
This is a lovely map to consider today. We humans sometimes need to remember that we are good at enduring. Look at the Swiss company still in business since 1230, the Italian bell foundry celebrating its 1,000 year anniversary in 20 years, and the Peruvian Mint that is 454 years old.
It is also fun to look at newer countries.
10. Coffee Break: Amazon Dating
It's light-hearted. It's recognizable branding. It's not real, but you don't have to tell your victims.
Prime one hour free delivery has a whole new meaning.
Hey, we know you love us too since you're down here at the bottom of the newsletter. Would you do us a favor and forward this to someone who you think will enjoy Spotlight like you do? Tell them they can sign up for free by clicking the silver button below.
Here are three ways that we can help you:
1. Get a free SEO audit on our website.
2 Have a simple, fact-based question about digital marketing? Reply & ask George for free.
3. If your organization needs help with search, social media, or advertising, have a look at what we do.
See you Monday.