Good Monday Morning
It's October 10th. Today is Mental Health Awareness Day, and I would like you to be aware of the new national Lifeline service. Call or text 988 to be connected with someone who can speak with you if you are experiencing emotional distress. Please know that if you're reading this that I want you to be alive.
Today's Spotlight is 1,434 words — about 5 minutes to read.
News To Know Now
Quoted:"We are concerned about recent increases in makeshift efforts by individuals attempting to weaponize commercially available robots… For this technology to be broadly accepted throughout society, the public needs to know they can trust it. And that means we need policy that prohibits bad actors from misusing it."
— Boston Dynamics CEO Robert Playter to Axios commenting on the company's pledge not to support weaponizing the company's robots.
Driving the news: Uncertainty throughout the U.S. and Europe as investment markets remain jittery, prices and interest rates remain high, and the Russian invasion of Ukraine intensifies as the smaller nation escalates its defense and bombs a critical bridge linking Russia to the Crimean peninsula it invaded and annexed eight years ago.
Three Important Stories
1) TikTok parent ByteDance told employees that its losses have more than tripled to $7 billion as it attempts to scale to meet hypergrowth. The Wall Street Journal reports that ByteDance's revenue grew to more than $61 billion and the amount of cash on hand tops $42 billion. Cash hoards are common in Big Tech with Microsoft, Alphabet, and Apple all holding more than $100 billion in cash. ByteDance's balance would rank 8th overall between Pfizer and Anthem if it were a publicly traded American company.
Our take: We keep saying this, but it bears repeating: TikTok is here. It's not a social media company, it's a video platform and entertainment company. Think of it more like Netflix meets YouTube than as Facebook. And increasingly, people use TikTok for news and search. That's what Google VP Prabhakar Ranghavan said at a conference in July. His statements were corroborated by a September Pew Research study that showed 33% of TikTok users now say they "regularly get their news on the app."
2) Facebook may be laying off 12,000 employees according to a report in Saturday's Economic Times. That represents about 15% of the company's workforce and reflects instructions sent across the firm to its directors. Meta had previously announced that it would slow hiring.
3) Microsoft-owned LinkedIn and researchers from top universities conducted social experiments on users over five years. The researchers have published the findings in Science and say that LinkedIn varied the strength of personal connections the site recommended to its users. The strength of those recommendations was then used to determine whether users were more likely to obtain employment through close relationships vs. weaker, more distant ones.
Trends & Spends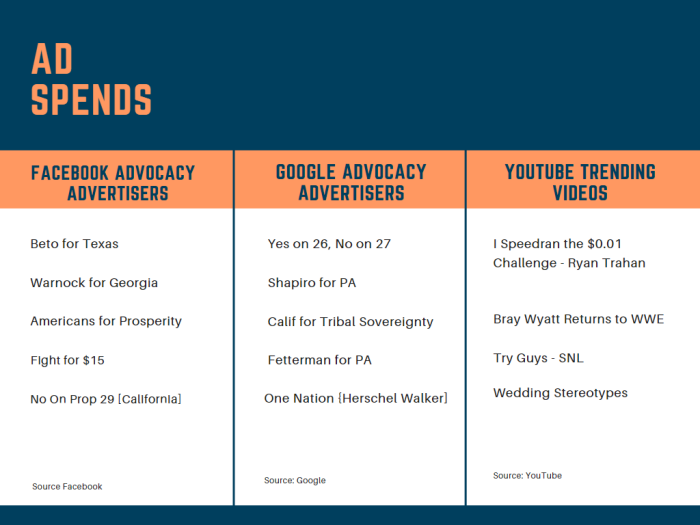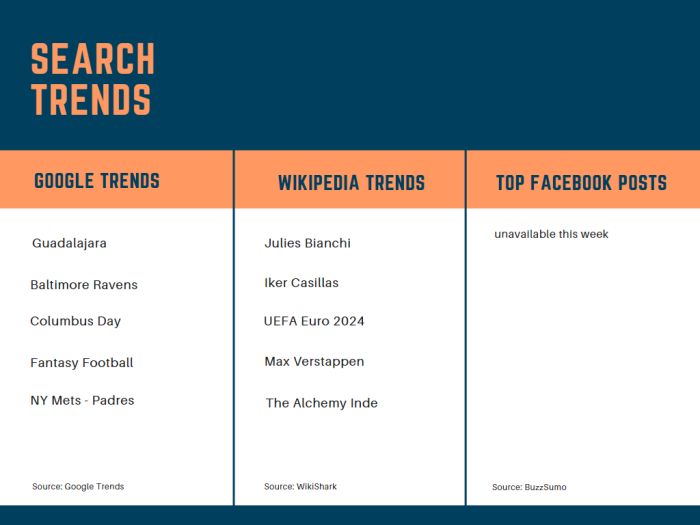 Spotlight Explainer — Online Disclosures
The FTC has sought to increase transparency on online platforms for more than twenty years. It's an area that many websites know exist, but the rules are nebulous and enforcement is often inconsistent. But just like a traffic court judge doesn't care how fast the other vehicles were traveling when you show up to defend a speeding ticket, the U.S. government says that online posters must disclose any commercial relationships that exist with organizations that they publicize.
The agency is back to studying the issue and inviting public comment because more explicit rules are definitely needed. Coincidentally (okay, probably not coincidentally), the SEC last week announced that reality tv star Kim Kardashian had agreed to pay a $1.26 million penalty for promoting a cryptocurrency security without using the proper online disclosures.
Kardashian's Missed Disclosure
A crypto company named EthereumMax paid Kim Kardashian $250,000 to promote one of its cryptocurrency securities. The SEC fined her $1 million plus her fee and interest. The specific issue relates to her touting a specific security instead of promoting the company as other celebrities often do. As the ex-wife of one billionaire and the sister of a second, Kardashian's touting of a specific investment was troubling.
Why The SEC and Not the FTC
The SEC was the agency with the specific rules in this case. By using the hashtag #ad in her video announcement, Kardashian had apparently done enough to comply with the FTC's antiquated rules, but not the SEC's. MSNBC shared a five year old SEC rule that states in part, "Any celebrity or other individual who promotes a virtual token or coin that is a security must disclose the nature, scope, and amount of compensation received in exchange for the promotion."
FTC Invited Comments
The FTC first published its "How to Make Effective Disclosures in Digital Advertising" in 2000 and revised the document in 2013. The agency invited public comments this year and closed that process in July although you can read the submissions online.
TikTokers Not Disclosing Include Platform's 2nd Biggest Account
A Vox expose this summer quotes Charli D'Amelio's video extolling flavored water and tea company Muse without disclosing that she had signed a marketing agreement with them the year before. That's big business for D'Amelio who has 140 million followers on TikTok although the issues exist throughout the spectrum of influencer audience size.
The FTC requires disclosure in advertising, but TikTok and other new media stars are grappling with rules written before TikTok was created and Instagram was part of Meta. That hasn't stopped some jurisdictions like the EU from chasing TikTok and others. Both the EU and the FTC are reportedly considering using rules to shield children from disclosed advertising.
Your assignment: Get familiar with the latest official FTC word from 2019 in the pamphlet, "Disclosures 101 for Social Media Influencers". If your firm is compensating someone and they talk about your product online in a promotional way, then online disclosure rules likely apply whether they have an audience of 14 people or 14 million people.
Did That Really Happen? — Bruce Willis Did Not Sell His Likeness for Deepfake Purposes
The article sounded plausible when it broke last week. Ailing and now retired actor Bruce Willis had reportedly sold his likeness for use in deep fakes. Then it turned out that not only had Willis done no such thing, but that the company that supposedly bought them said, "currently no regulatory framework allows people to sell rights for their identity."
This Ars Technica article does a good job unwinding a few strangely chaotic days.
Following Up — Now We Have AI Videos from Text Prompts

If the rush to AI art that we wrote about two weeks ago seems like a land rush to you too, you won't be surprised that Meta has announced that it's built a tool called "Make-A-Video" that creates videos from text. You're not getting a new version of Citizen Kane. Think instead of the GIFs that are ubiquitous on its properties.
Protip — Free Open Source Alternatives to Popular SaaS Products
Maybe you don't need all the features in Evernote or 1Password, but still want something with similar but less robust features. Head here and start searching for free software that might give you what you're looking for.
Screening Room — Oura Ring
NBA star Chris Paul and Olympic skier Lindsey Vonn are among the athletes touting Oura's new personal tracking ring in this spot. I'm old enough to remember when these trackers were watch replacements.
Science Fiction World — Diagnosing COVID from a Cough's Sounds
Pfizer (yes, that one) finalized a sale to buy Australia's ResApp last week. The final price is about $116 million American and gives the pharma giant ownership of a mobile app that analyzes the sound of a cough to diagnose respiratory illnesses including "asthma, pneumonia, bronchiolitis, croup and chronic obstructive pulmonary disease."
I never thought that I would enjoy hearing the instruction "cough into your phone", but it sounds much more pleasant than a big Q-Tip up the nose.
Coffee Break — The Top Southern Things on Airbnb Listings
I might have guessed plantations and alligators were on the list, but dolphins and Elvis? Have a stroll through this data driven look at the most popular elements in Airbnb listings in Southern states.
Sign of the Times