Groupon is enduring some well-deserved criticism this week for its edgy Super Bowl commercial featuring actor Timothy Hutton that made light of Tibet's struggles with China.  American consumers overwhelmingly rejected the ad while continuing to use the service (herein called The GoDaddy Effect) and the company best known for being the startup that earlier spurned $6 billion of Google's money created another head-scratching moment.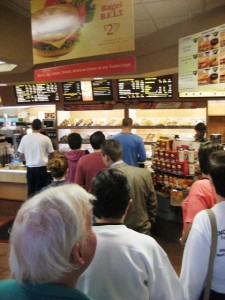 But what impact does this company have on a small business, maybe your small business, when one of those 50% offers launches? Almost all Groupon customers ask for a second promotion according to a video on the company's website.   Local merchants now receive mobile applications, free marketing copywriters and tools like a capacity planner.
But business owners often go online to complain about margins or are cautioned about exceeding capacity and cutting into margin.   WebProNews did a splendid piece about Groupon tackling the capacity issue head-on and suggested that Groupon should be able to help a small business plan for lots of new customers.
Capacity was the issue I experienced with local merchants.  The worst was a camera store with an offer that swayed me to convert some old film to DVD .  My son picked up the order and paid with the Groupon, which was about $6 more than the cost.  The cashier did not offer a store credit or offer to sell a second conversion and apply a $6 credit.  Nearly half of the $15 savings evaporated so I called the store. Pause and reflect.
Groupon brought me in when I wouldn't have looked around for that old birthday party footage.  Then the store had a chance to wow me with their services and pick up a second conversion plus who knows how many more future orders? Instead the clerk said no.  The manager went further, telling me that "Not everything is free just because you have Groupon".  Those frustrated line staff comments are common on web complaint boards.
But now I had a mission so I called the small chain's headquarters and was told there was no customer service department and "these questions"  were best handled at the store level.  But now I was more focused on the store manager's attitude and I ended up in the voice mail of someone in store operations.  That person never called back even after a second message was left.
So the fallout for the store is even worse.  Now I'm not only dissatisfied, but when someone comments on the DVD, I tell them to buy online because the local chain has "awful service". That is the essence of a merchant's Groupon dilemma.  The company says all will be well if the merchant is "honest" about their ability to handle big volumes and convert casual consumers to long-term customers.
Your takeaway as a small business leader is to think strategically, not about cash flow or other tactical matters, when considering any coupon service.
If you don't have an upselling, customer-centric culture and your business has tight margins, inviting a horde of discount-loving customers who have no loyalty to your business is an ineffective strategy.
Source:  "Groupon.com", ComplaintsBoard.com, 1/26/2011
Source:  "Hey, Ellen, Should We Do Groupon?" Restaurant Intelligence, 9/18/2009
Source: "Groupon Talks Managing Capacity…", Web Pro News, 1/17/2011
Source: "Groupon Rejects $6 Billion Offer From Google", MSNBC, 12/4/2010
Image:  Eugene Peretz via CC 2.0