You already know that more of your website visitors are arriving via mobile devices like smartphones and tablets. Even if you don't study your website's analytics, you surely know that your own activity is increasingly done on devices other than a computer. The website may remain the hub of your digital presence, but social media, email and your presence on other websites are all important components of your organization's marketing.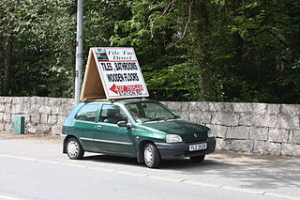 We routinely see data showing client websites receive up to   half of their visitors via mobile devices. That's true on specialty sites receiving few visitors and sites that receive thousands of visitors every day.
Up to half and growing is an important number.
Google is meeting the trend by creating "call-only" advertising campaigns that should be part of every local retailer and service company's strategy moving forward. The mobile feature launches with the ability for your agency to start scripting messages and landing pages directly for mobile. And that means you can save significant amounts of advertising expenses by optimizing a mobile-only ad campaign.
Mobile advertising has been available for years, but mobile-only is a giant step for the world's leading search engine company. Remember that almost all Google profit comes from advertising so Google mobile advertising is not a casual test. The company says that "70% of mobile searchers call a business directly from search results."
If only a fraction of that number is accurate, your organization needs to be using this new feature fast. Talk with us about call-only advertising if you're a client or think you should be one.
Source: Charge up your phones with call-only campaigns – Google Inside AdWords
Image: Mobile Advertising by Ardfern via CC 3.0