Let me first give mad love to the Five Guys Burger chain that started here in DC.   Before common sense, my family and a nutritionist stepped in, the store occupying the 4.4 miles from my driveway to my office parking space was awfully darn convenient.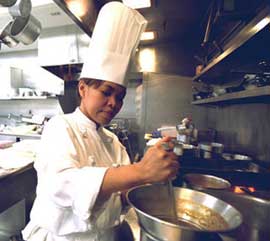 President Obama found a convenient location today too and dropped in for his second burger photo op in as many months.  Nine hours later, the chain's site has absolutely no mention of their favored visit.
It's not as if Barack Obama can't have an awesome burger delivered by Chef Cristeta Comerford in about, oh, as long as it takes to prepare one. Chef Cristeta, the first woman Executive Chef the White House has ever had, can probably cook fries too although at Five Guys, the portions are so big that my three boys and I have trouble finishing two orders.  We have, I don't anymore, but I know Chef Cristeta can whip up a batch just as good in a healthier portion.
But here's the issue:   9 hours after the fact, the Five Guys site still has absolutely no mention, no video, no photo, no nothing about the President's visit.  That's a grievous error.  Tomorrow is another day, another news cycle and on a slow and rainy Friday in Washington, the Five Guys marketing team really missed the boat. [No word on whether the President asked for a little mustard this time around, but burger joints in DC better keep some "you know, Dijon or somethin'" on hand in case a motorcade pulls in.]
Your Friday Fast Fact:   Five Guys made the Google Hot trends list and did absolutely nothing with the attention — not even a whisper of a special offer to drive traffic in.  For shame.
Related articles by Zemanta