Election Day is tomorrow, Veteran's Day is Friday. Please vote. Thank you, vets and military families, for serving.
Today's Spotlight is 637 words — about 4 minutes to read.
Spotlight On … Tech Layoffs
Breaking late Sunday: Meta is planning the first broad layoffs in its history, according to the WSJ. Meta added more than 40,000 employees since January 2020.

Recent tech layoffs:  Twitter — 3,700 (50%), Stripe — 1,000 (14%), Lyft —  700 (13%), Hello Fresh (611), Opendoor — 550 (18%), Zillow — 300 (5%), Booking.com (226)

Context:  We told you throughout October that Big Tech quarterly earnings would be dismal. They were so bad that Meta's stock dropped 25%. For a brief while, Apple stock was worth more than Alphabet, Meta, and Amazon combined. 

Meta's stock may continue to be pummeled this week, and it's worth noting that Amazon and Alphabet both have instituted hiring freezes. Tech layoffs may not yet be over.

What this means for you: Less spending on R&D and new features although Meta CEO Mark Zuckerberg is not retreating from his $15 billion investment in the metaverse.
3 More Stories to Know
1) TikTok data about European users is available to its Chinese headquarters staff, the company acknowledged last week. The admission is widely believed to be remain compliant with stringent European consumer privacy laws.
2) A laser can cause an autonomous vehicle to crash by interfering with its radar, according to research from a trio of universities. The laser creates a blind spot similar to the ones that human drivers cope with.
3) Twitter's troubles continued through the weekend. The company yesterday paused implementing it $8 monthly fee for verified accounts and continued dealing with new owner Elon Musk firing the entire AI ethics team along with half the company last week. President Biden on Friday told an audience at a fundraiser that Twitter "spews lies across the world."
Trends & Spends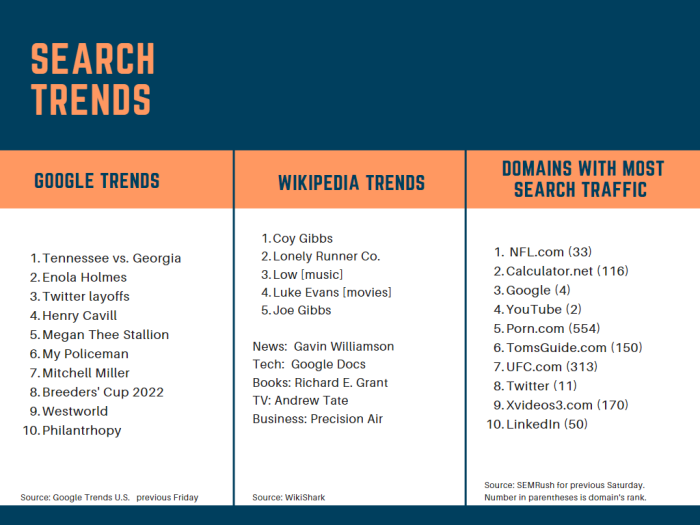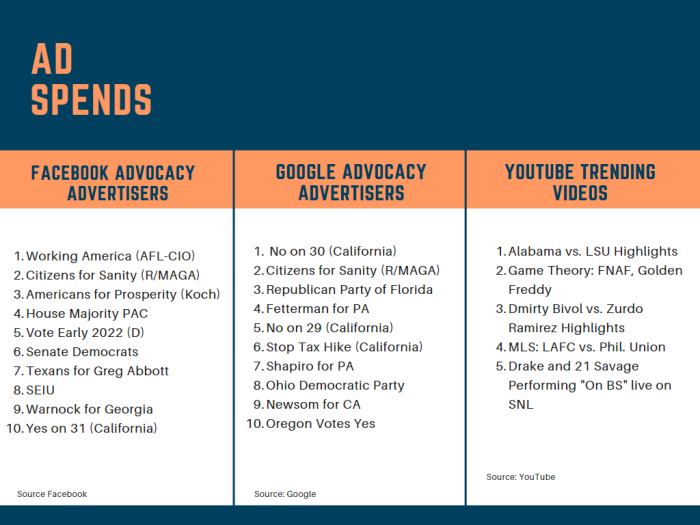 Did That Really Happen? — PA didn't send 255K ballots to unverified voters
Disinformation from The Gateway Pundit falsely claimed that Pennsylvania officials improperly sent a quarter-million ballots out, an untruth quickly amplified by others. This AP fact check has details and the accurate numbers.
Following Up — Google to Show Package Delivery Tracking in Inbox
Google's Gmail can automatically show package tracking data when a tracking number is included in your email. The effort is part of the company's continuing quest to provide "zero click" data, much the same way as address information or movie schedules automatically populate when you search for them.
Protip — LinkedIn profiles get verified info
Hat tip to cybersecurity expert Brian Krebs who notes that LinkedIn is fighting back against bot accounts on its site by showing visitors when a LinkedIn profile was created, the profile photo was updated, and any verified info. See his Friday column to learn how to check for yourself.
Screening Room — Buddy the Elf for Asda
Science Fiction World — Human Tissue Printer To Space Station
A 3D printer that can create soft human tissue is on its way to the International Space Station after researchers discovered that Earth's gravity inhibits the printing process. First up: knee cartilage!  Really.
Coffee Break — AI Sings Jolene
Simultaneously haunting and cool, this is a voice model singing the Dolly Parton hit. No one recorded these words, but the AI was trained using creator Holly Herndon's voice and then assembled the tones into … just listen to it.
Sign of the Times