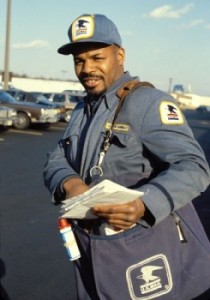 If you heard the news, you probably heard back in February. Since then, news about the war in Iraq and Afghanistan as well as the global financial crisis, probably pushed thoughts about postage from your mind.
But just as the U.S. Postal service tells lawmakers that it may need to cut the number of delivery days, a postage rate increase takes effect May 11.
The price of a first class stamp jumps 4.76% to 44 cents. Media mail rates go even higher. A one pound package that is sent for $2.23 now climbs 6.7% to $2.38.
I know the distribution and fulfillment folks plotted their budgets months ago (UPS and FedEx raise rates early in the year at the time the USPS announces its rate increase for spring). The inflation rate has been minuscule since December 2008 and was only 3.8% in 2008, but here comes a big increase.
Meanwhile, the folks at the Bureau of Labor Statistics who compile the various (yes, there are multiple) consumer price indices show a 0.4% increase over the last 12 months.  And yes, that includes fuel. Email remains free, but that Kindle will cost you.
Related articles by Zemanta