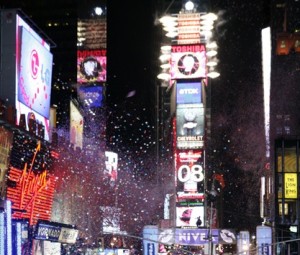 Welcome back to work.    We all have files and little things that must be updated each year.    I won't even presume to guess what spreadsheets or documents need to be updated at your place.
Here is a checklist as 2009 flips over to 2010.
Change the copyright date on your customer-facing websites.  Nothing says dated like a 3 year old copyright footer.
Check your web forms.  If any of them (or your paper forms) were configured as 200_, last week was a good time to change them.
A new tax year has started.  Talk with your tax consultant or accountant, but if you were supposed to change your withholding or take any payroll actions, you should be dealing with that issue now.
My personal favorite for businesses with more than a handful of employees.  Every application that can be logged in from outside (even a blog) should be scrubbed for user name entries and passwords for former contractors, vendors and employees.  You should regularly do this, but using the beginning of the year as a double-check is a good reminder.