This post was updated in summer 2018 to reflect this new link for the Google forms template library. You'll need to be logged in to Google Sheets for this to work.
Google did so much this week that one of the more immediately useful announcements may have been overlooked. You've probably heard about Google TV, improvements to Google AdSense for businesses who use that advertising network and the attempt to revive Google Wave by making it available upon request.  For practical purposes that impact small businesses, the item that caught my attention was one I urge you to consider. Using Google's easy but powerful forms just got easier with new free fonts and templates.
I also have to give a special hat tip to Googler Melissa Louie, who identified herself this week as the creator of Google Chrome's Zen/Spring theme.  I've used that theme almost exclusively for months, and it has become Google Chrome's face for me.    Way to go, Melissa. That theme rocks, err, is tranquil and calming.
Why Google's New Themes Matter
Google Forms is already the easiest, most cost-effective (free) way to gather data online.   I already use Google Docs with dozens of clients and partners.  When I revert to the Microsoft Office swap via email and trying to track version control, I develop a little tic and I'm pretty sure I grind my teeth.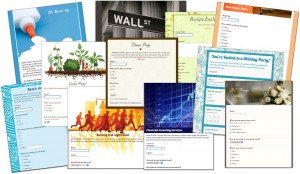 With the release of 24 new free fonts and the use of images from iStockphoto, Google Forms are pre-made templates that should satisfy most small business needs.   You can use them internally or with customers. Surveys and similar data are automatically filed in spreadsheet view.
Even better:  you can share that spreadsheet to anyone with an email address.   It's perfect for small businesses, but it even works for the small business softball league you're in because everyone doesn't have to be on the same domain. What you see to the left are templates that the Google team has put together for various industries and generics for others.  There are even new social forms like party invitations. The templates have been added to Google's free template library.
As I was discussing with my partner yesterday on the phone, Microsoft's attitude toward templates frustrates me to no end. Registered owners of expensive Microsoft software (she uses a Mac, I have a PC, but I don't use IE's browser most days) can only access Microsoft's free template library using the company's browser.  Sure, it's probably legal.  It's just dumb customer service. Google's free solutions cover at least 80% of what Microsoft offers with the added benefit of being accessible using any browser.  And remember, they're free.  Free is good for any small business paying attention to cash flow. Give it a whirl.  I think you'll like any of the forms you try out.