Bill Parcells, the current head of all things football for the Miami Dolphins, is a football coaching legend.  Right now — today — 7 NFL head coaches include serving as an assistant to Parcells at one of the Hall of Famer's stops.  Another 4 former NFL head coaches are among his pupils.  Being  an assistant to Bill Parcells is like clerking for the Chief Justice of the U.S. Supreme Court.  Eventually, those clerks become pretty well known attorneys and judges too.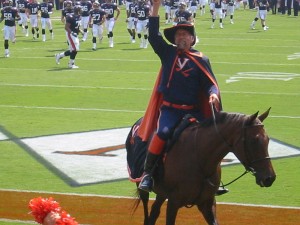 Al Groh is one Parcells disciple that hit the big time more than once.  Selected by his mentor to coach the New York Jets a decade ago, Groh quit after one year to return to Charlottesville where the head coaching job at his alma mater, the University of Virginia, was waiting gift-wrapped.
Lauded in pages of the New York Times when he was hired and criticized when he resigned, Groh had the chance to go home again.  He coached the team he and son had played for and was brought in to replace a coaching legend. Five bowl game appearances and the second highest number of wins in school history didn't save Al Groh's job yesterday.   Forget that he was named ACC Coach of the Year in 2002 and again in 2007.  Groh coached the Cavaliers to two straight losing seasons.  That's enough in the big game ranks to get you fired, even with a multi-million dollar payout.
How bad a coach can you be if the university is willing to pay millions for you *not* to coach in addition to the salary of the replacement? Remember, this is one of Bill Parcells' disciples, a man who was chosen as the best coach in his conference twice in the last seven years.  He has more wins at Virginia than the coach he replaced.   He has more wins as a head coach at Wake Forest than anyone except one person.  He coached the New York Jets to a winning season. Is Al Groh really a bad football coach?
In the constant culling of employees espoused by business leaders like Jack Welch, being a C player for two years in a row is more than enough reason to get a pink slip.  Welch fans may argue (we've all heard them) that only the immediate past matters and the failure of  a manager to terminate a C player is the sign of a weak manager.  You're damned if you do and damned if you don't.
As a small business leader, you should be prepared to move fast and terminate leaders who aren't getting the job done.  But University of Virginia officials made an especially expensive decision in spending millions to terminate someone capable of performing the work.    University of Maryland officials face the same decision with their coach, Ralph Freidgen, rumored to be on the chopping block after one of the worst years in Maryland football history. Do the benefits really outweigh the cost in each case?  And that's the real question you need to consider before moving on a termination in your small business.  Any personnel action will send shockwaves throughout the organization, expose the company to liability and require a transition period.  Before terminating anyone – much less your public face and a leader – make sure that the value brought by a replacement exceeds the incumbent's performance and the financial and emotional cost of the transition.
Cavalier photo by Terren in Virginia via Creative Commons