Good Monday Morning
It's January 23rd. Friday is International Holocaust Remembrance Day.
Spotlight On … Facial Recognition Abuse
Several alarming incidents related to facial recognition abuse threaten the promising progress being made in machine learning and image recognition. In two cases, police requested arrest warrants based on image matches that caused mistaken arrests. In another, a woman was barred from entering a theater based on where she worked.

Jailed for Days Despite Never Have Been There
Though the software works largely as intended, police in Louisiana and Texas have improperly used matching records to seek arrest warrants. When she learned there was an arrest warrant for her, doctoral student Julie Hudson visited a Philadelphia police station to solve the problem. She was arrested and held for six days. A Texas police detective investigating a shoplifting used facial recognition software to match her face to social media images even though she had never been to Texas.
Weeks earlier, Randall Reid, 28, was arrested in Georgia for stealing luxury purses from two New Orleans suburbs despite having never been to Louisiana. As Reid's appearance was distinctly different, including a visible mole and substantial weight difference, observers questioned how the mistake could have occurred, yet Reid was jailed for days.
Wrongly arrested people can suffer serious legal consequences due to mistaken identity. Those problems aren't limited to technology, but facial recognition abuse by police has ugly ramifications. For example, Reid and Hudson must now both acknowledge on job and credit applications that they have been arrested. Expunging arrest records can be time-consuming and expensive.

Removed From a Holiday Show
New Jersey mother Kelly Conlon is also a victim of facial recognition abuse. While accompanying her daughter's Girl Scout troop to a Radio City Music Hall holiday show, Conlon was removed from the theater because the law firm where she works is involved in a lawsuit against an affiliated restaurant. She was not involved in the litigation personally or professionally. In a statement, Madison Square Garden, which owns Radio City Music Hall, said that attorneys in litigation against the company are not allowed to attend events at any MSG venues.
That rule may have triggered even more legal action. An attorney at the firm where she works is now challenging MSG's liquor license.
3 More Stories to Know
1) T-Mobile customers still have until later today to file claims for $25 ($100 in California) due to a 2021 data breach. The timing is mind-blowing since T-Mobile announced a new breach affecting 37 million customers last Thursday.
2) After announcing 10,000 job cuts last November, Amazon will lay off an additional 8,000 employees. Also being eliminated is Amazon Smile's charity rebate program, which provided hundreds of millions of dollars to charities over ten years. That program ends on February 20.
3) Microsoft engineers published a paper earlier this month that claims software they've developed uses machine learning to generate a computer sound-alike from only three seconds of audio.
Trends & Spends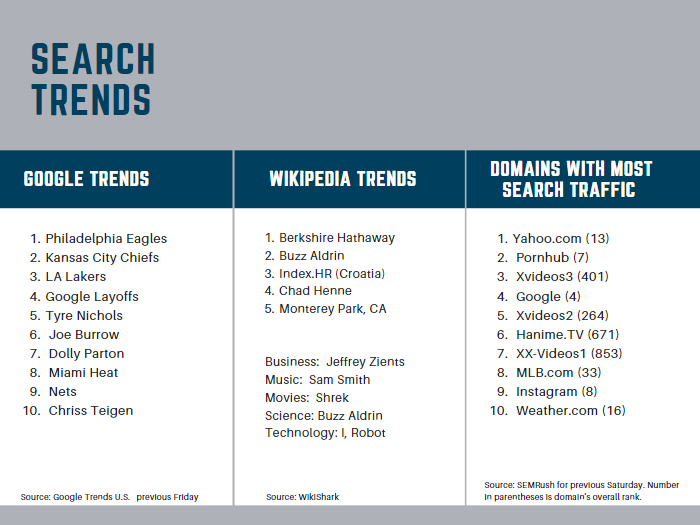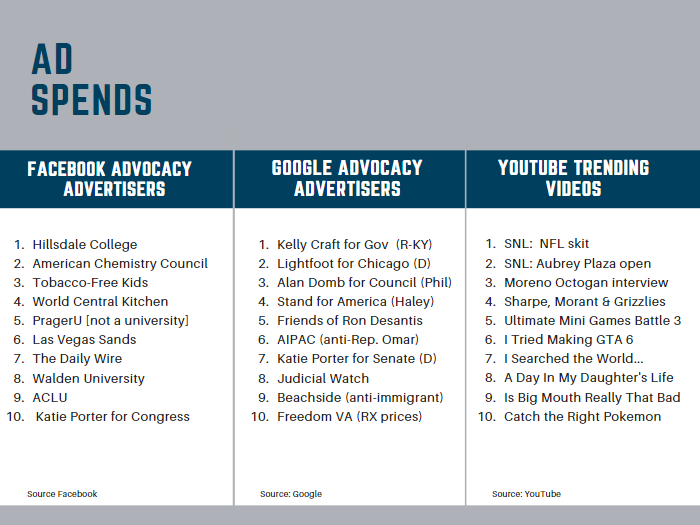 Did That Really Happen? — Yes, A Child Themed Rifle Was Introduced Last Year
Social media buzzed last week with news about a rifle made for children. There are 1,000 American children shot every year, but gun maker Wee1 Tactical has developed a rifle for children that looks like an AR-15 semi-automatic weapon. The rifle's marketing introduction featured babies, children, and pacifiers in its design. Snopes documents its timeline.
Following Up — CNET Publishing Automated Articles
In another twist on abusing new technology, CNET has begun using unspecified AI software to write non-bylined articles. Futurism elaborates on the factual errors that have been published.
Protip — Find Hidden Cameras With Your Phone
Your phone can detect the infrared light used by many hidden cameras that your eyes can't detect. The Verge shows you how and also writes about software that will help detect sneaky cameras.
Screening Room – Apple
Science Fiction World — Bird Bots
Robotics takes a giant flap forward with new winged models that can autonomously land on a perch using a claw like attachment. That engineering trick hadn't been mastered until last month's announcement and video from the Swiss Federal Institute of Technology.
Coffee Break — And Still More Birds
The My Bird Buddy smart birdfeeder includes a camera that identifies and records the birds visiting your backyard. It comes with notifications to your phone to alert you when that extra-special avian shows up. There's no word on whether it does the same for squirrels.
Sign of The Times