1. Good Monday Morning
It's November 29th. Chag Sameach. Hanukkah began at sundown last night.
Today's Spotlight is 983 words — about a 3 1/2 minute read.
2. News To Know Now
Quoted: "This finding is very concerning as it could take days, if not longer, to deploy new security updates as they are released, while threat actors just need hours to exploit exposed services." — Bleeding Computer's coverage of a study where researchers reported that 80% of 320 test sites were compromised in under 24 hours.
a) Editing software maker Grammarly raised $200 million to drive new initiatives beyond "conciseness, consistency, and correctness." Up next: editorial recommendations based on machine learning. Investors valued Grammarly at $13 billion, a massive increase from $1 billion just two years ago. (TechCrunch)
b) Spotify's Car View mode was "retired" during the long holiday weekend. Android Police found and confirmed the change while also alluding to Spotify's new $80 hardware called Car Thing. The company has only said that they are "actively exploring a variety of new ways" to operate in a car, but the built in Car View mode is dead.

c) UArizona students can soon get credit for playing a commercial video game. The university's history faculty has collaborated with Microsoft on its Age of Empires IV game. The school said that players who interact with the "enhanced experience" by learning history written by the professors can earn one academic credit from the school. 
3. Search Engine News — No Rich Markup for Republished Content
As more websites syndicate their content across multiple channels, only one site will be eligible for "rich markup" in the search results. Those are the non-text cues around a search result like stars, reviews, or other visual changes.

It's a big deal because websites often republish reviews about their services or products after they were posted on another site like Yelp or Google. Those reviews can still appear in the results, but will not have extra visual cues even if the website's marketers include them.

We also got data from eMarketer that showed year-over-year increases in retail advertising categories are substantial, even allowing for the pandemic's arrival in 2020.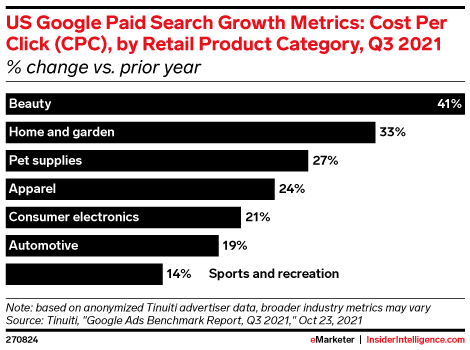 4. Spotlight Explainer — Amazon Payment Methods Changing
Amazon's payment methods have outsize influence. Recent data shows that Amazon has 41% of retail e-commerce in the U.S. No other company holds 7%. The next 10 companies combined only account for 25% of the highly fragmented industry.
In just the last month, Amazon has taken on behemoths like Visa and PayPal while launching its own biometric system.
Visa is on Amazon's naughty list
Visa credit cards won't be accepted as an Amazon payment method in the UK beginning January 19, 2022. Visa stock was hammered more than 5% the day that it was announced. And Amazon wasn't alone. Walmart, Kroger, and Sainsbury have all had beefs with Visa over merchant fees.
PayPal's Venmo will be accepted next year
PayPal's Venmo service will become an official Amazon payment method next year even as its parent company's namesake service is not accepted. Amazon and PayPal weren't partners for the longest time so this is a bit of an icebreaker.
Amazon One is looking to own the identity world
There are now 87 facilities that accept Amazon One payments that are activated by hovering the palm of a hand over a reader. Amazon desperately wants to be a player in the identity market, allowing its palm reading technology to unlock doors, pay bills, and act as an identity card. Have a look at the identity hegemony they foresee in this video from last year:
5. Did That Really Happen? — Amazon Does Not Chemically Treat Boxes
Just in time for more holiday shopping, here is another look at Snopes debunking a rumor that falsely claimed that chemicals Amazon uses on its boxes can harm pets. The false claim was unfortunately amplified by animal charities.
6. Following Up — Ransomware
We've written a lot about ransomware. Our media appetite is always focused on the initial crisis — the disruption of city services, food manufacturing, or energy. But there's a big cost associated with cleanup and restoration. Anyone who has lost a home to a natural disaster or fire knows this painful concept.
Thanks to a Freedom of Information Act request by WYPR in Baltimore, we learned last week that Baltimore County Public Schools have paid nearly $10 million to restore their network after a ransomware attack one year ago.
Despite the expensive lesson (only $2 million was covered by insurance), the teachers' union reports that hundreds of employees have ongoing payroll issues and a consultant's report alleges that the system is still vulnerable.
7. Protip — iOS Privacy Settings
This excellent explainer from The Washington Post this weekend tells how to block ad tracking or make your apps tattle less on your habits while using your iPad or iPhone.
8. Screening Room – Robin, the Delivery Drone
9. Science Fiction World — A Floating City
Oceanix has signed an agreement with the city of Busan, South Korea to build a 185 acre enclave off the city that floats in the water. Have a look at the concept in Global Construction Review. The deadline is in 4 years, the UN is involved, and costs are expected to reach $200 million.
10. Coffee Break — The Searchable Museum
The National Museum of African American History & Culture has created one of the best interactive museum experiences I've ever seen. "Slavery and Freedom" is its first full exhibition and very worth of a visit.
11. Sign of The Times