Good Monday Morning
It's September 12th. Financial markets are watching tomorrow's Consumer Price Index announcement as an early indicator of how much the Federal Reserve will increase interest rates when it meets next week. The agency has increased the rates banks and other institutions charge each other by 2.25 points in just six months. That's directly affected mortgage, credit card, automotive, and other consumer interest rates.
Today's Spotlight is 1,349 words — about 5 minutes to read.
News To Know Now
Quoted:"We are particularly targeting house extensions like verandas. But we have to be sure that the software can find buildings with a large footprint and not the dog kennel or the children's playhouse."
— Antoine Magnant, a French government official quoted by the BBC after France used AI to identify 20,000 swimming pools that were undeclared on homeowner taxes. The government expects the pools to contribute $11 million in additional property tax revenue.
Driving the news: Consumer anxiety around unsettled political and economic forces continue to take their toll as interest rates rise and important midterm elections are only nine weeks away.
Three Important Stories
1)Irish regulators fined Meta about $400 million for violating EU privacy data laws regarding the company's treatment of children's data on Instagram. Meta is subject to Irish regulatory action because it is where the company's European headquarters is located. Politico reports that Ireland's data privacy agency has "at least six other" Meta investigations in progress.
2)The IRS exposed information about 120,000 taxpayers on its website after what it termed a "human-coding error." The data was publicly accessed by The Wall Street Journal, which also reported that ProPublica published tax data about wealthy Americans last year, but failed to link that expose with this data release.
3) The White House banned publishers from putting taxpayer-funded research behind paywalls online. Publishers of expensive scientific journals must now make federally funded research available for free on the same day that it is published.
Trends & Spends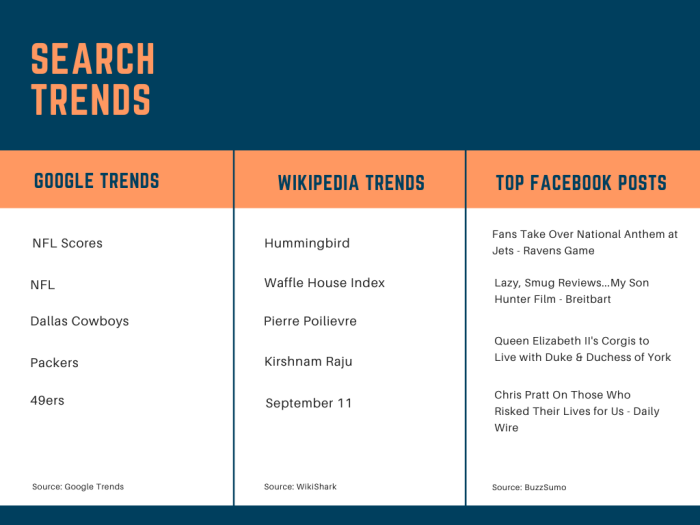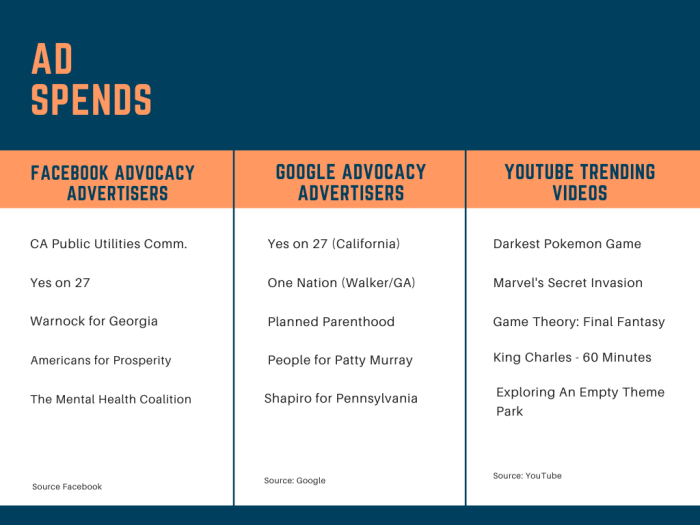 Spotlight Explainer — Abortion Location Data
The FTC sued a large data broker as the Labor Day weekend approached two weeks ago. The broker, Kochava Inc., is accused of selling millions of records from telephone data that tracked consumer locations to abortion providers, substance abuse recovery facilities, and plenty of other sensitive places.
The FTC said even sample data was telling.
"A free sample [of the data] … was sufficient to identify the mobile device that visited a clinic and then trace that device to a single family home," quoted Wall Street Journal coverage of the suit.
This is critical for you to understand.
Abortion location data doesn't have to be accurate to affect you and change your life. You or one of your loved ones may not even be physically capable of bearing a child. Your data is being aggregated and if a person can buy location information in an unregulated data market, you might be a target of vigilantism in the hopes of an "abortion bounty," doxxed, or worse.
Maybe you're dating someone who works in the office. Or maybe your company just sold some office supplies there. Or maybe you're thinking about having an abortion.
This is not hyperbole.
We can buy this location data from multiple brokers. We've done it it in the past to prove that it can be done. There is no license required or background information needed. Then the information only needs to get matched to existing data. That's not hard if you know what you're doing and don't mind spending money.
Private citizens in Texas can get bounties called "rewards".
Skirting any constitutional protections, Texas created a law that allows private citizens to file civil lawsuits against anyone suspected of performing or inducing an abortion, or anyone who "aids and abets" that behavior. The suit can be filed for up to four years and the lowest bounty is $10,000. That buys a whole lot of location data.
And if you're the person wrongly accused of having an abortion or aiding and abetting one, you still have to pay an attorney to defend yourself.
Every carrier and almost every app sells this data.
Law enforcement agencies have been using a secret tool called Fog Reveal to access this data since 2018. A joint expose from The Associated Press and EFF found law enforcement agencies accessing billions of records from 250 million mobile devices. Many agencies do not require their officers to get a warrant for the data, information that the company says is "freely given by individuals."
As the EFF points out, "police can also, for instance, track people whose devices have been inside an immigration attorney's office, a women's health clinic, or a mental health facility. Police could easily, with almost no oversight, use this tool to watcha secret rendezvous between a journalist and their whistle-blowing source."
Researchers have found more than 1,000 phone apps that track location data, according to Time. Telecom carriers like AT&T, Verizon, and T-Mobile keep pinpoint location data for months and all location data for one to five years each.
Privacy expert and UVA law professor Danielle Citron points out that law enforcement agencies investigating an abortion (how's that for a horrifying phrase?) don't have to rely on Big Tech companies and can also seize and search your phone or other devices with a warrant.
Billionaire invests in "femtech."
Billionaire anti-abortion activist Peter Thiel has financed a new "femtech" startup called 28 that provides a holistic view of physical and emotional content related to menstrual cycles. Thiel invested $3.2 million in the company's app which will be offered free in app stores and not carry advertising.
Did That Really Happen? — Meta Removes RFK Jr.'s Org for Misinformation
An organization led by Robert F. Kennedy Jr. that promotes misinformation about vaccines has been banned from Facebook and Instagram. Kennedy's Children's Health Defense company was called a member of the "disinformation dozen" last year by a watchdog group that found 65% of all false anti-vaccine content online could be tracked to Kennedy's and eleven other organizations.
Following Up — An IRS Submission Platform
The Internal Revenue Service is investigating whether it can offer U.S. taxpayers a free filing system that it had originally attempted to offer through public-private partnerships. We've written at length about the work ProPublica has done in calling attention to the abuses of the IRS' Free File program available to most taxpayers reporting under $73,000 in income.
The IRS estimates that 70% of taxpayers should be able to use the Free File program, but only 3% of taxpayers do. That disparity is considered to be the result of companies like H & R Block and Intuit making the program difficult to access online without first paying for the company's services.
Protip — Google Docs' Spiffy Changes

Google has done a great job with its free Docs program over the last year, and there are 11 cool new tips you should try. The email draft is awesome, but the table templates are pretty nifty too.
Screening Room — Sandy Hook Promise's Emmy
Science Fiction World — Driverless Ice Cream Vans
Robomart and Unilever are partnering on driverless vans with fancy vending machines that will dispense Ben & Jerry's, Breyers, and other ice cream treats by hailing the van via an app. That's right, you'll soon be able to whip out your phone and summon a pint of Cherry Garcia to your driveway where no one will judge you even if it's 10 a.m.
Coffee Break — The Top Invention Every Year
Have a gander at the best invention every year since 1954's microwave oven. Stop in at 1974 (barcodes), 1996 (DVDs), and 2010 (Siri).
Sign of the Times